Email is universal.
It can be annoying. It can be frustrating. It can be downright overwhelming.
But email isn't going away.
That's why we've spent the last few years building over 50 free Gmail productivity tools you can use to make email work better.
When used well, they can help you save time, land sales deals, and make your customers love working with you!
10. Get the Meeting!
Last week I got several emails from a salesperson with a service he thought I'd be interested in.
They were standard sales prospecting messages, complete with the usual ask for "quick chat this week just to see if there's a fit."

You know what he could have done better?
Instead of making me suggest times, he should have made it super easy for me to grab a time with him.
You don't need a fancy third-party tool to create a link to your calendar. Meeting Scheduler lets you create a link and share your availability in seconds—without leaving Gmail.
9. Be Ultra-Responsive to VIP Clients
Of the dozens of emails you receive every day, how many are truly important?
For most people, it's just a handful—usually from VIP contacts like your boss or your client.
Instead of setting your computer and phone to flash desktop notifications for every email, you can use simple SMS alerts to notify you when a VIP sends you an email.
That way, you can be ultra-responsive for the people who really matter—while still being productive by ignoring all those newsletters and the people who can wait.
SMS text alerts are easy to set up and manage using Gmail SMS alerts.
8. Build That Email List!
It's a myth that most people ignore most of their emails.
Research shows that most people read most of their emails and don't mind receiving marketing messages from people and companies they do business with.
That's why—despite the naysayers—email marketing is far from dead.
You don't need to set up a complicated new email service to send marketing messages to your list of contacts.
By using MailKing, it can all be managed within Gmail.
7. Ditch that "@gmail.com" Address (for a Custom Domain)
Here's a simple way to make your business look more professional.
If for some reason you're using an email address that looks like yourname97@gmail.com, invest a few dollars and sign up for a custom email through G Suite.
Once you have it set up, using it will be exactly like using the Gmail you're used to—except now your email will look like yourname@yourdomain.com.
It's a simple step that will make you look far more professional to clients and customers.
Once you have a custom email, use Multi Email Forward for Gmail to easily transfer your entire inbox to the new account.
That way all your existing work emails will be available without switching accounts.
6. Get Organized (Finally!)
Labels are one of Gmail's best features—and one of the most underused.
This is probably because Gmail's native layout has a tendency to bury them over in the side navigation.
Gmail Tabs is a simple, elegant fix for that, creating order from the chaos.
5. Relentlessly (But Politely!) Follow Up
Did you know: 44% of salespeople give up after one follow-up attempt with a prospect.
One attempt!!!
Meanwhile, 80% of sales meetings require multiple follow-ups.
If you work in sales or any part of your job is finding clients, don't be the person who gives up after one follow-up attempt.
Use Free Email Tracker to see when and how many times a prospect opens your email.
If they don't respond, keep following up!
4. Save Those Receipts!
Business receipts used to be organized in filing cabinets (or shoeboxes!).
Today a huge percentage of business receipts come to us via email, which means it can be extremely for them to get lost in our inboxes.
Save email to PDF is the easiest way to save receipts to a folder on your computer (or to a shared Drive or Dropbox folder).
It's just one click in Gmail.
Your accountant will thank you.
3. Say It with Video
The best emails are short, concise, and to the point.
But what if you have something complicated to say?
Don't write a novel, click a button in Gmail, record a video, and instantly embed it into a message.
That way you can say what you need to say—without having to spend 20 minutes writing a novel of an email.
It's better for your recipient too, since they'll get the full context of your message.
Free Video Email for Gmail makes the process as easy as a few clicks.
2. Sell That Property!
Some details are best shown as visuals.
If you sell properties or any kind of physical goods, make your emails far more engaging by using Gmail URL Link Preview to include previews of the links you're sending.
This is perfect for realtors, brokers, or anyone selling unique items such as art or custom-built furniture.
Show a house, a property, or a new painting to a prospect you know will be interested once they see it.
1. Turn Complaints into Compliments
Finally, perhaps the most important moment to save a business is the moment when a customer writes in to complain.
If handled quickly and professionally, a complaint can be an opportunity to wow your customers, turning them from critics into huge fans of your work.
Most companies have fairly common complaints that come in from time to time.
For these, have a few Gmail Snippets saved so you can respond quickly— while ensuring you don't sound defensive or annoyed by the complaint in your hurry to respond.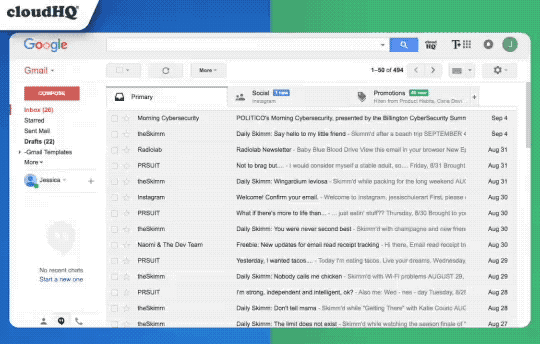 Those are just 10 of the over 40 tools we have to help you be more productive using Gmail.
Check out the full list of productivity tools to learn more!