We love Evernote, but it's not the only note-taking app on the market.
If you're a visual thinker, a programmer, or a fan of pen and paper, you might be better off with something different.
Below is our list of different note-taking apps plus the strengths and weaknesses of each.
Tier 1 Note-Taking Apps: Evernote and OneNote
Of all the apps we'll cover, Evernote and OneNote are the most robust apps available. We'll call these our "tier one" apps.
Both are fully supported by cloudHQ, where you can:
Note Insurance: Save all your notes to a cloud storage like Google Drive. This protects your notes by making sure that you have a copy of them in an easily accessible place if ever Evernote accidentally loses your life's work… which has been known to happen.
Best of Both Worlds: Save your Evernote notes to OneNote, and OneNote to Evernote. This will let you use either app, and your notes will be completely in sync across both apps.
1. Evernote
Evernote is simple to use, but also full of powerful tools for those of you looking for advanced features.
It's easy to create and share notes in Evernote. Plus Evernote's web clipper browser extensions let you clip articles, text, or full page images from the web. It also has apps for all the major desktop and mobile operating systems.
Best for:
Taking notes, clipping web pages, sharing notes, and recording audio.
Weakness
The well is deep with Evernote. No one questions its power, but some find it to be overwhelming to use, and security has been known to be an issue.
Plans and Price
Basic: Free, includes 60 MB of new uploads per month. Syncs with two devices.

Plus: $34.99/yr, includes 1 GB of new uploads per month. Syncs across unlimited devices

Premium: $69.99/yr, includes 10 GB of new uploads per month. Syncs across unlimited devices.
2. OneNote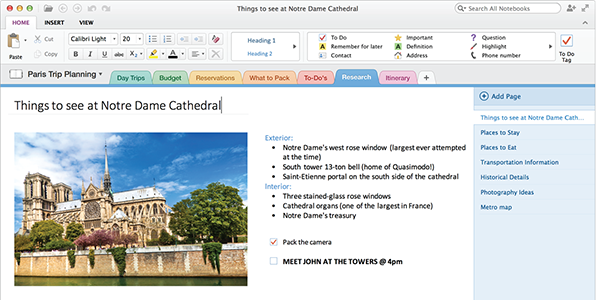 OneNote is Evernote's most direct competition for a cross-platform note-taking app. It's a Microsoft product and has apps for PC, Windows tablets, Android, Mac, and iOS.
Like Evernote, it's cross-platform, it's easy to share and collaborate from the platform, and it has a web clipper extension that lets you save information from the web quickly and easily.
The major difference?
OneNote is free.
Best for:
Anyone looking for a free alternative to Evernote.
Weakness
The Mac version is a much less robust app when compared to the PC version.
Plans and Price
Tier 2 Note-Taking Apps: For Keeping It Simple
Tier two apps lack many of the features of Evernote or OneNote, but they all have their strengths, especially if you're looking for something simple.
3. Apple Notes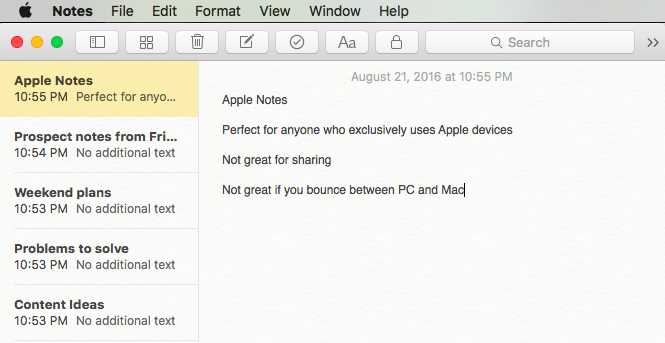 Apple Notes is exclusive to the Apple family. But if you exclusively use Apple products, Notes might be the only app you need.
If you live in the world of Apple-made devices and just need a place to store notes or images, Apple Notes makes it easy.
It's free and native to Mac, iPhone, iPod Touch, and iPad. No downloads or subscriptions required. By default, Apple will automatically sync your notes across devices through iCloud.
Best for:
Users who only use Apple products.
Weakness
Designed for one person. It's not easy to share data with other users using Apple Notes.
Plans and Price
Free on Mac, iPhone, iPod Touch, and iPad.
4. Google Keep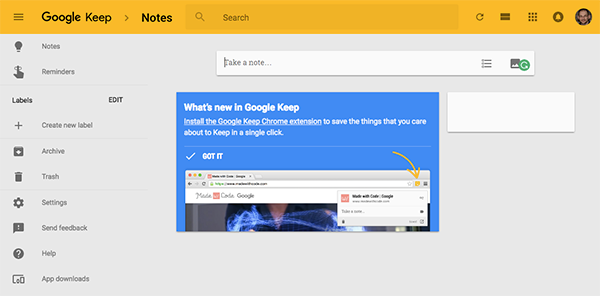 Google Keep is Google's attempt to compete with Evernote and OneNote. It features a more visual interface than either Evernote or OneNote. It is well-suited for creative projects.
The big concern for Google Keep is that Google has a habit of shutting down apps that don't become the leaders in their market, even if doing so impacts a large, vocal group of users (i.e. Google Reader).
Unless Keep somehow rises to Evernote or OneNote user-status, it may not continue much longer.
Best for:
Weakness
Uncertain how long Google will offer Google Keep.
Plans and Price
5. Simplenote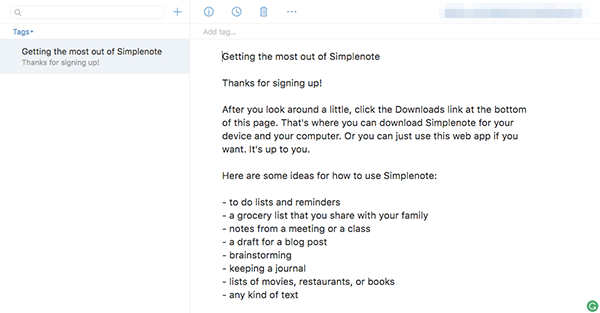 Simplenoteis for those of you into minimalism and simplicity. It's simple. It saves your notes. It works across all the major platforms (including Linux).
It's also free.
Best for:
Weakness
No integration or sharing options.
Plans and Price
Simplenote is free to use. There was a "premium" version, but the company has put it on hold for now, with plans to possibly re-release a premium plan in the future.
6. Workflowy
Workflowy is an ultra-minimal outlining app that works in your browser or through a mobile app.
It's easy to master. Tab to indent. Shift+tab to move the indent back. Click the bullet to minimize the group. Click again to expand. Click and drag to move things around.
Best for:
Meeting notes, content outlines, fans of ultra-clean UI design.
Weakness
Not easy to store images or media with your notes.
Plans and Price
Free plan: allows up to 500 items per month.
Premium: $4.99/mo. Unlimited use plus Dropbox backup and other premium features.
7. Quip
Quip is a versatile note-taking app designed for teams.
You can make lists, take notes, collaborate, plus tag and categorize data as you go.
It also has a nice selection of visual tools such as charts, graphs, and emojis.
Best for:
Team projects and collaboration.
Weakness
Works best with multiple people, which means you'll need to get others on board with the app if you want to use its full potential.
Plans and Price
$30/mo for a team of 5, plus $12/mo for each additional user.
The Benefits of a Great Note-Taking App
A great note-taking app helps you organize your brain.
It helps you get things out of your head and into a system more trustworthy than your brain, putting everything in a place where you can get to it when you need it.
cloudHQ can help you take things one step further, letting you save those notes or synchronize them across different cloud services like Dropbox, Google Drive, Gmail, and more.
To try cloudHQ for free:
Save Your Notes