Lawyers have a lot to have to remember, and legal project management is the key to a successful career. When clients don't do the work on their end, they leave you hanging and looking like a fool–hardly the goal a successful lawyer, and especially not the goal of a future judge. MailKing helps eliminate your clients' forgetfulness, and gives them time to organize the work that you expect of them.
Send all your clients text message reminders every Friday at 3pm in minutes, and remind them what work you're waiting on from them. You'll get less excuses, and be able to propel your career full steam ahead. Take a look:

Unfortunately, many clients aren't aware of the amount of work needed to prepare for depositions or trial. That's why it's helpful for you to help remind them about the work they owe you. This is part of your legal project management, and sending them each a text message reminder from your Google Sheet takes almost no time. It keeps everyone accountable, and you profitable.
To send text message reminders, MailKing is the ultimate way to keep clients on track. You can:
Personalize text messages like: "Get your FL-150 form completed by Monday morning at 8am"
Send bulk text messages like: "Hi |Client First Name|, it's Sheena, your lawyer. Here's the following work I need you to complete this weekend:"
Use any combination of the above two, like we did in our movie where we combined a personalized message about work that needs to be completed, along with a bulk introductory message.
Using text messaging in this way simplifies accountability, and takes minutes to complete. Save time, and be a top producing lawyer by using your clients as one of your resources.
Legal Project Management Text Messages are Personalized
Instead of reinventing the wheel, we see that most people use Google Sheets with ease. That's why you can easily create your own spreadsheet, and keep track of your students or teammates there. It's easy, and it lets you take advantage of tools you're already  using.
Step 1. Create a Google Sheet
Simply create a spreadsheet with any merge tags you need. For lawyers, we suggest using the the following column classifications:
Client First Name
Client last Name
Phone Number
Text Message
You may want to consider sending out a text message reminder every Friday at 3pm so that clients have time to get work done on the weekend. Any column you use, will become available to you as a merge tag in your text message reminders. Let's take a closer look at how that works.
Step 2. How Merge Tags Help You Save Time
Merge tags sound complicated, but they are quite simple. For instance, all it means is a personalization tag that relates to your client; for example: |Client First Name|.
If you click on "Client First Name" from your merge tags drop down menu,  you can write a bulk message saying:
Hi *|Client First Name|*
However, when a client named "Angie" opens your text message,  she actually reads:
Hi Angie
Your MailKing merge tags are created by your column headers from your Google Sheet.

Those column headers automatically populate your merge tag selection.  As you write your text message, you can use a merge tag by clicking on the merge tag drop down menu.

After you access your merge tag drop down menu, you can select the one you want and insert it into your text message with just one click.
You can click on preview to see what each of your text messages look like.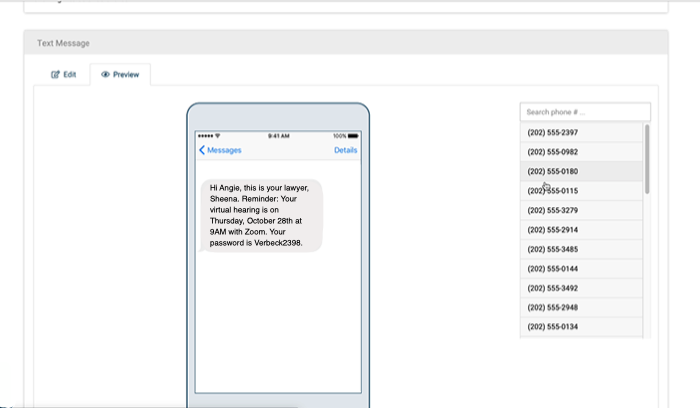 After that, simply hit send and your text message reminders are sent!
Give it a try today by clicking on the blue button below.