Have you ever needed to save emails to PDF? Now you can do it in just a few clicks. We've added new features to help you get exactly what you want, and will walk you through it step by step.
Firstly, let's address why you might want to use this app. There are, in fact, a plethora of reasons that people want to save their emails as PDF. However, at the forefront of it all, this app is being used for documentation purposes. Whether this is just used as an email backup for safe-keeping, or to package up emails for accounting or legal purposes, or even just for organizing your own emails in a paper-friendly format, this app accomplishes just that. Take a look: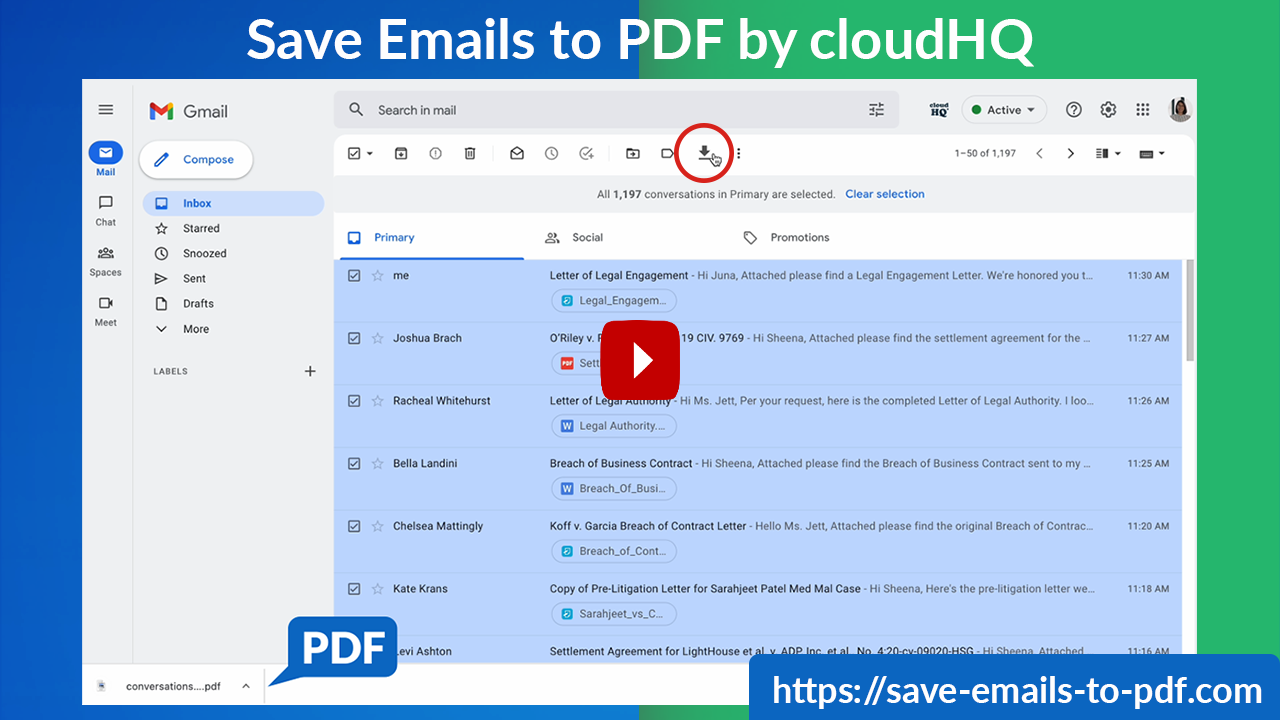 Save Emails to PDF Now
Step 1. Install Save Emails to PDF by cloudHQ
In order to get started, the first step is to install the extension from the Google Chrome store.

Step 2. Select Which Emails to Convert to PDF
You can choose to save a selection of emails that fits a filtered search, a Gmail label, or just a few emails if you desire. In this case, we select all emails by clicking on the box in the top left box and then selecting "Select all conversations in inbox".

Then you should start the wizard with what you want to do. In this case, we will click on the new convert emails to PDF button and select "Save selected conversations as…".

Now, you'll find yourself looking at a new pop up that will show you all the features we offer you so that you can select the ones you prefer. Let's go through them step-by-step.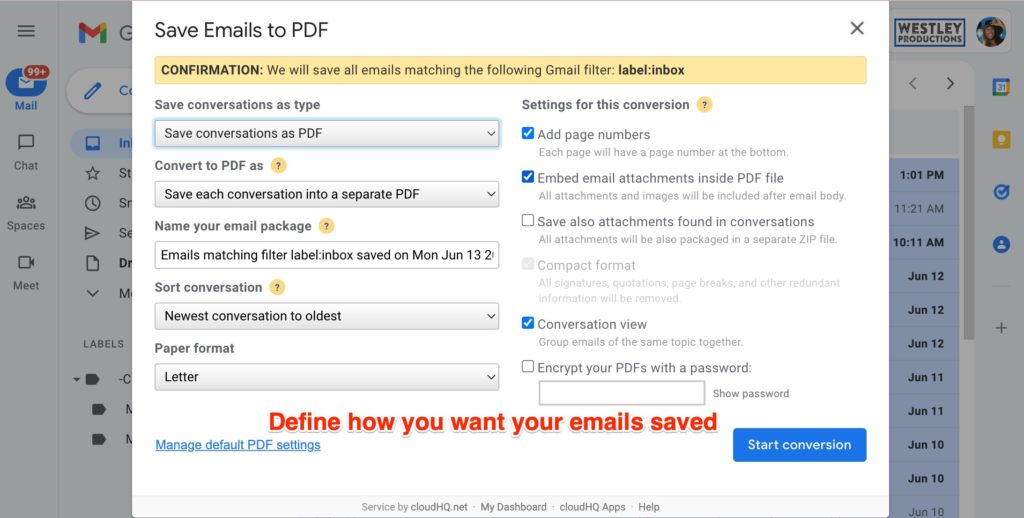 Step 3. Save Email Conversations as PDF, HTML, TXT
We added new features because we recognize that different people need to have a record of their emails in different file formats, and the ability to send them in specific ways. That's why you can now convert your emails as a PDF, HTML or TXT file. Select what you need, and let's go to the next step.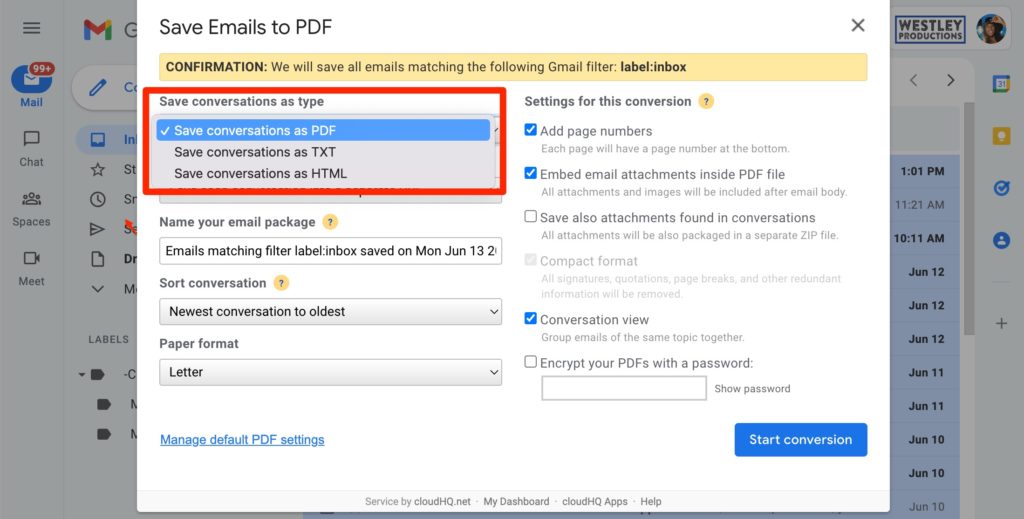 Step 4. Save Emails as One Document or as Separate PDFs
Next, you need to determine how you want your emails to be represented. Do you want each email in its own PDF format, or do you want to combine them into one PDF file with all your emails? For this example, we'll select "Merge all conversations into one PDF."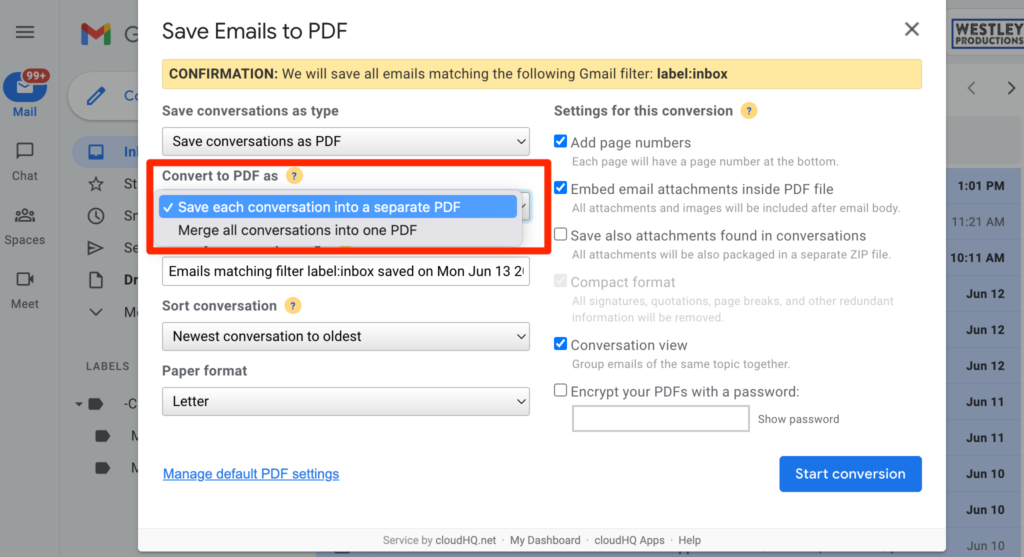 Step 5. Name Your Email File
Simply name the file you want to call your emails. Since this is my inbox, I labeled it: My inbox.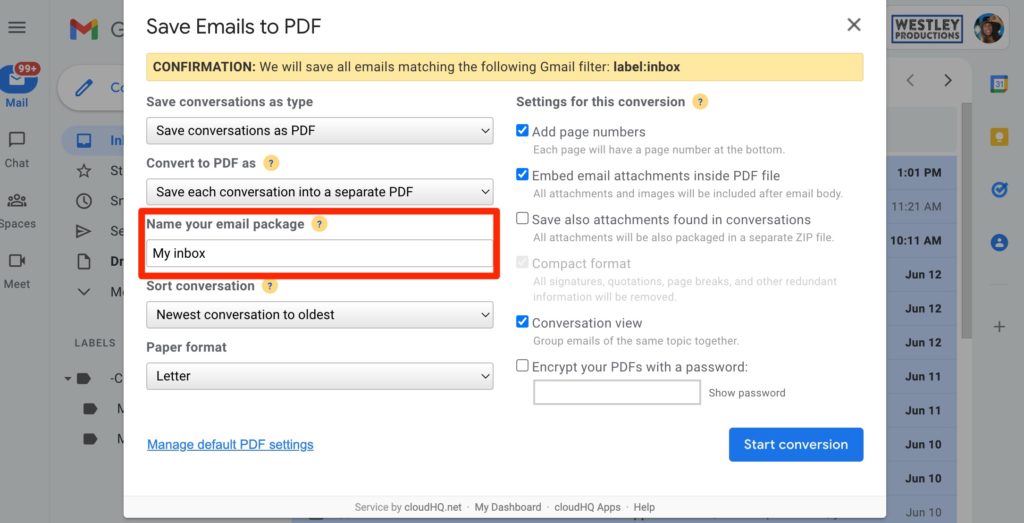 Step 6. Sort Your Email Conversations by Oldest or by Newest
Simply tell our email to PDF converter if you want to have your oldest or your newest email conversations listed first.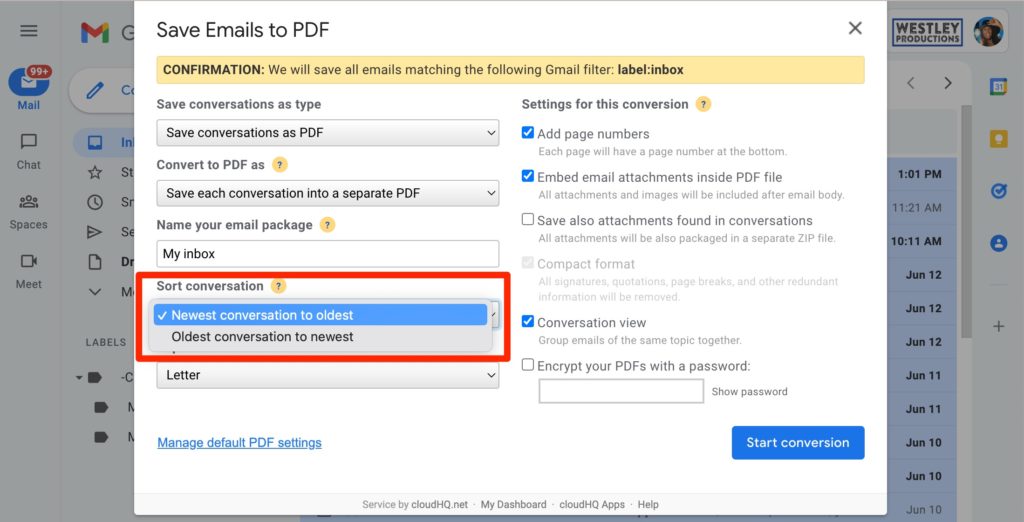 Step 7. Select Your Paper Format
Select the paper format you want this document to be printed on. It could be any standard selection that you can find on your printer; with the two most popular being legal and letter formats.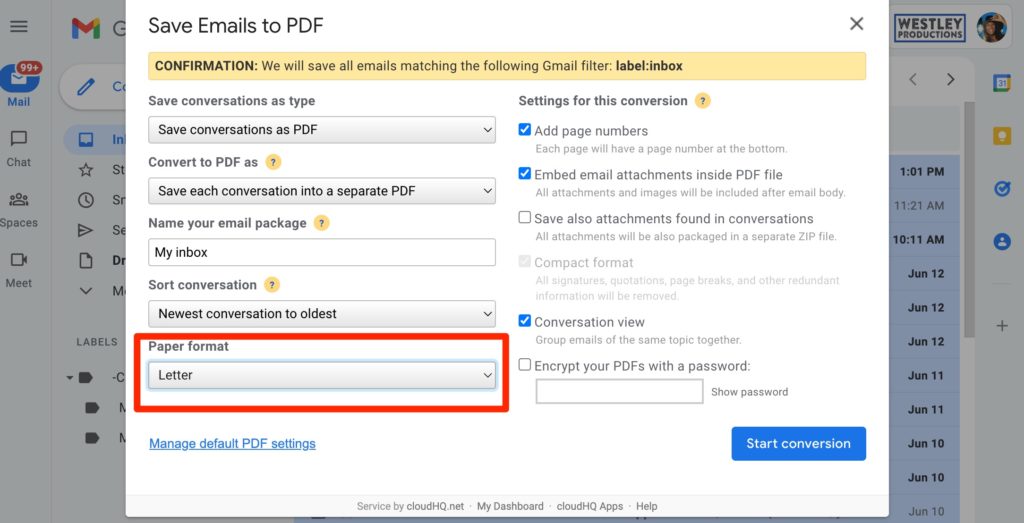 Settings for Email to PDF Conversion
Here, we'll go through each setting option briefly to explain what you might want to select.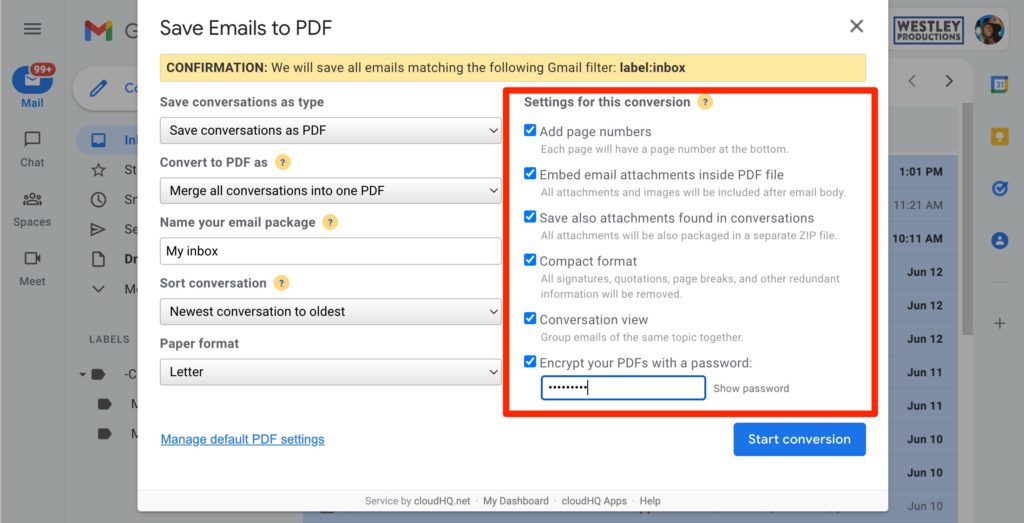 1. Page Numbers
Select this option if you want page numbers in your document. For legal purposes, this is very helpful so that you can direct the court to the page that you are referring to.
2. Email attachments
If you want your email attachments embedded right after your email in your PDF document, select this box. If not, don't select it (read the next step).
3. Save Email Attachments in a Separate PDF Folder
If you select this option, it ensures that all your email attachments will be in a separate file for you, and NOT right after your emails. This is helpful for scenarios where you have to organize all of your invoices or purchase orders, for example.
4. Compact PDF Format
If you select this option, it ensures that your file is smaller and is a good option if you don't want to take up too much space or if you want to be environmentally-friendly if you plan on printing your PDF file. Page breaks, quotation marks, email signatures, and other redundant information will be removed from your file, thereby drastically reducing its file size.
5. Conversation View
This is a more selective kind of option where emails that might be discussing an event would be grouped together, or have some kind of common topic thread in the conversation.
6. Security Encryption
Lastly, you can select to encrypt your email to PDF file which is a great option if you are sending your file to your lawyer or accountant and have private data in your document.
Convert Email to PDF Price List
For the price list, please visit the Save Emails to PDF Pricing page and decide if this app is for you.