Are you using video emails yet?
If not, what's stopping you? It's an easy way to make yourself stand out from anyone else sending emails.
To help you make an even better impression, we've just added several new branding features to our Free Video Email for Gmail tool.
You know how a huge number of people instantly trust anything with the Apple logo? Or Nike, Google, etc.?
That's the power of branding.
Your brand may not be as recognizable as Apple's, but it can still add a professional touch if you use it in your emails—especially your video emails.
Here's how to set up your own branded video emails…
Step 1. Install Video Email
On a Chrome browser, go to Free Video Email for Gmail and download the free app.
Step 2. Go to Your Dashboard
From Gmail, you'll notice a new cloudHQ icon in the top right-hand corner.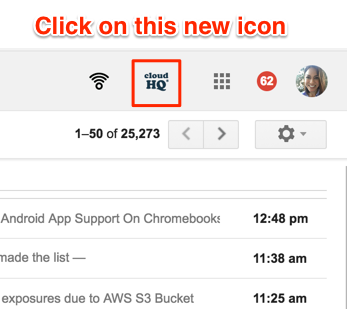 Once you click it, you'll see a bunch of cool new options. Just click on "My Dashboard":
Step 3. Choose "Free Video Email for Gmail"
Once you're on your dashboard, you'll see a list of the cloudHQ Chrome extensions you have installed. Click the one that says "Free Video Email for Gmail":
Step 4. Upload a Logo or Image to Your Video Header
Notice there's a "Customization and Branding" button. Click it.
Add your image by uploading it where it says "Choose File":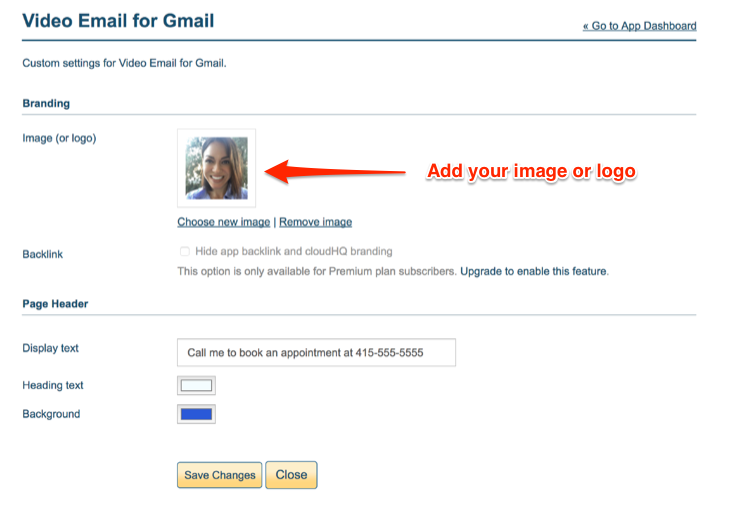 Step 5. Customize Your Header Message
Another new feature we've added is the ability to change your display message.
You can add your custom display message in the box labeled "Display text."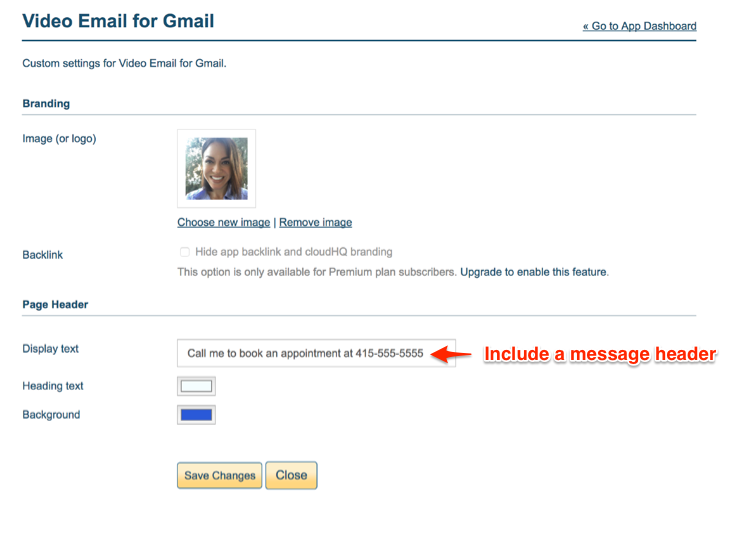 Step 6. Choose Your Font and Background Colors
We've also given you the ability to choose the font and background colors on your video header.
To select them, just click on a color rectangle and choose your preferred colors from the color wheel. Make sure to save your changes by clicking on "Save Changes".
Step 7. Create Your Video
Once you've saved your changes, you can leave the cloudHQ page and go back to Gmail to give it a whirl.
Simply compose your email, then click the video icon on the bottom of your email menu to start your video recording. Once you're done, your video will automatically preview in your email, like so: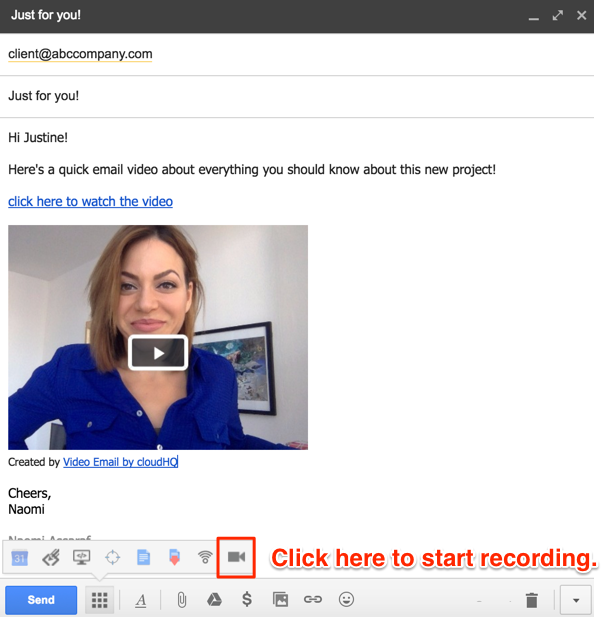 When your email recipient clicks on the video, they'll see your video along with your custom image, message, and header colors.
This is an excellent way to drive your "call to action" home. In this case, Naomi's call to action is for the email recipient to book an appointment: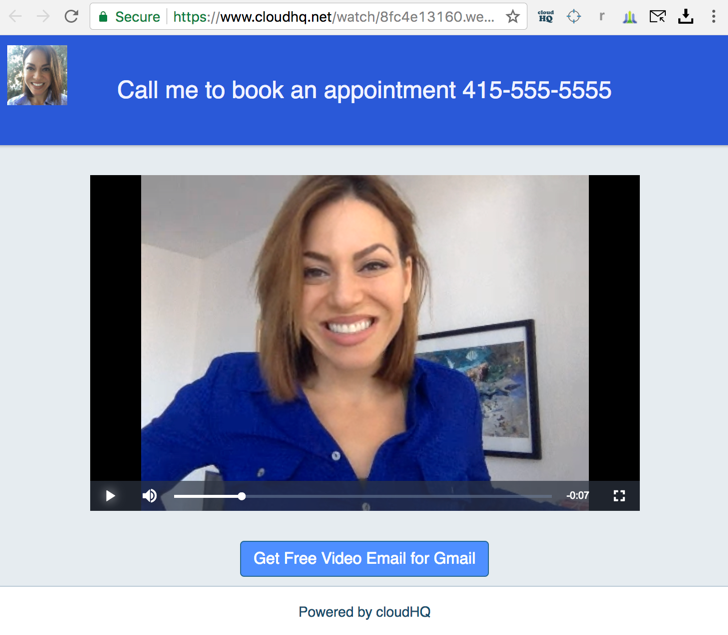 Once you set up your customized header, you'll never need to do it again unless you want to change it; in which case, just follow steps 2 through 6 above.
Video Email is Free
Free Video Email for Gmail is 100% free to use for anyone with a Gmail or G Suite email account.
If you'll notice, there's a "Get Free Video Email for Gmail" button on the bottom of your videos. If you want to remove it, you'll need to upgrade your account for a small fee. If you don't mind having it shown on the bottom of your videos, you can simply continue using our service without having to pay a dime.
Whichever you choose, personalizing your video emails helps you stand out from the crowd- letting you make deeper connections with your audience.