We heard you!
You told us you wanted more productivity tools for Gmail, and in 2017, we delivered.
In total, we released 18 Gmail productivity extensions this year.
Of those, 17 are available with robust, 100% free plans—designed to make you more productive with just a few clicks.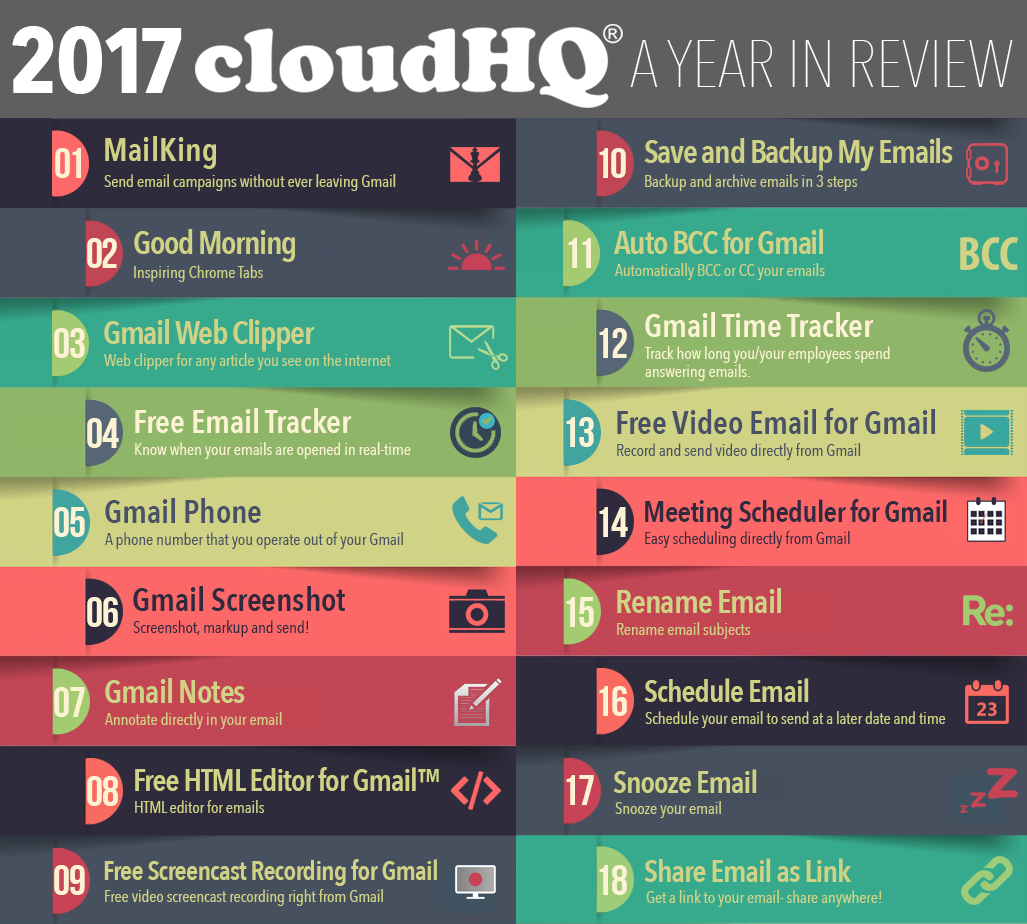 Here's our year in review—a look at everything we released in 2017:
MailKing lets you send automated email marketing campaigns without ever leaving Gmail. It's unique because it sends directly from your Gmail account, which guarantees higher open rates for your emails as it reliably lands in your recipient's inbox, and escapes the trenches of the dreaded promotional tab.
MailKing is perfect for:
✔️ Salespeople who want to close more deals, faster.
✔️ Marketing emails for small companies and contractors.
✔️ Avid email users who want to be more productive with their emails.
Install MailKing from the Chrome Web Store with 1 click.
Good Morning replaces your boring new Chrome tab page with an inspirational personal dashboard.
Daily inspiration abounds with images that gently remind you to center yourself—along with an inspirational daily quote to help you focus on the bigger picture of your day ahead.
Install Good Morning from the Chrome Web Store with 1 click.
Gmail Web Clipper lets you save any web articles, texts, and snippets, directly in your Gmail. Everything is neatly saved in a Gmail label directly in your email for you to read later, or for you to send a snippet to someone else.
Easily save:
✔️ Articles
✔️ Texts
✔️ Images
Install Gmail Web Clipper from the Chrome Web Store with 1 click.
With Free Email Tracker, you'll know when your emails are opened in real-time. You'll get:
✔️ An email tracking dashboard
✔️ SMS, desktop, and email notifications when your email is read
✔️ Reminders if your email goes unopened
✔️ Link tracking
✔️ Email tracking removal options for emails you don't want to be tracked
Perfect for salespeople, customer service reps, headhunters, and more!
Install Free Email Tracker from the Chrome Web Store with 1 click.
Gmail Phone gives you a dedicated secondary phone number you can provide to clients, customers, or students to keep your personal phone number private.
All messages and voicemails will be automatically forwarded to your Gmail account.
✔️ International phone numbers available
✔️ Up to 1,600 characters for all text messages sent from US, Canada, and the UK area code phone numbers
✔️ ATT Phone support- connect your AT&T phone number to your Gmail phone to receive and send mass texts via email
Great for teachers, small business owners, lawyers, etc.
Install Gmail Phone from the Chrome Web Store with 1 click.
With Gmail Screenshot, you can take a screenshot, annotate it, and send it directly as a link to anyone who needs to see it.
This is a lightweight Chrome extension that will let you snap a picture of anything you see on your screen.
✔️ Write text
✔️ Use arrows
✔️ Pixelate sensitive information
✔️ Include rectangular boxes or lines
Install Gmail Screenshot from the Chrome Web Store with 1 Click.
If emails were letters, Gmail Notes would be sticky notes.
Highlight a section of an email that you received and make a note about it. Keep it for yourself or email it to someone else.
No more having to respond to someone by saying "see edits below in red," or wishing you could write a note on an email. Just use Gmail Notes and never lose a thought.
Perfect for:
✔️ Editors
✔️ Sales Managers
✔️ Project Managers
✔️ Customer Representatives
✔️ Anyone who wants to make a mental note about an email they received.
Install Gmail Notes from the Chrome Web Store with 1 click.
Free HTML Editor for Gmail is a top-of-the-line, split screen HTML editor that lets you customize Gmail email to include anything you can think of:
✓ Tables
✓ Charts
✓ Call-to-action buttons
✓ Side by side images (great for social media logos!)
Install Free HTML Editor for Gmail from the Chrome Web Store with 1 click.
Free Screencast Recording for Gmail captures your voice and any user flows you want to show on your screen. It uploads directly to Gmail, providing your recipient a direct link to your screencast video.
Use it for education, customer service—or anything that you want to share that you experience on your screen.
Install Free Screencast Recording for Gmail from the Chrome Web Store with 1 click.
With Save and Backup My Emails, you can save emails, email threads, and any attachments to a PDF, Excel, or CSV format. The PDF can be downloaded to your hard drive or your USB key for safekeeping. You'll feel confident when your emails are literally in your hands.
Feel more secure and in control in case:
✓ You leave your job
✓ You switch email hosting services and need a new account
✓ You upgrade to a G Suite email address instead of using a free "@gmail.com" email
✓ You got hacked and you cannot access your account
✓ You accidentally deleted emails
Install Save and Backup My Emails from the Chrome Web Store with 1 click.
Ever wish you could just always blind carbon copy another email address when you send emails to a specific person? Maybe it's to yourself on another email account, or maybe it's to your assistant, partner, or your CRM!
Auto BCC for Gmail does exactly that, automatically. You can rest assured knowing that whoever needs copies of your emails, has them.
Install Auto BCC for Gmail from the Chrome Web Store with 1 click.

Any time you open an email, Gmail Time Tracker automatically logs how much time you spend reading or writing it. You can then export that information into a spreadsheet.
Ideal for employers who want to track the work productivity of their employees, or for professionals who charge hourly; like lawyers, doctors, construction managers, freelancers, and contractors.
Install Gmail Time Tracker from the Chrome Web Store with 1 click.
Video Email for Gmail allows you to record a personal video directly with Gmail—all with 3 taps:
✓ Record
✓ Upload
✓ Send
You can also upload your video privately to YouTube or Google Drive—or you can download a video file to your hard drive (which then you can send as an attachment).
Perfect for salespeople, realtors, lawyers, marketers, and anyone who's looking to cut through the noise of boring text emails.
Install Free Video Email for Gmail from the Chrome Web Store with 1 click.
Meeting Scheduler for Gmail lets other people choose a meeting time with you based on your availability. It works directly from Gmail and is 100% integrated with your Google Calendar.
Say goodbye to the email "tag game" for scheduling appointments and do everything with one email, and one click.
Install Meeting Scheduler for Gmail from the Chrome Web Store with 1 click.
Have you ever received an email whose subject is unclear and you wanted to label it properly so you could search for it more easily later on?
Rename Email lets you rename email subjects for emails that you received in Gmail.
✓ The sender won't know you've changed the email subject (unless you reply with the new subject line)
✓ It can be used to break up a long conversation thread.
✓ It's easy to remember what idea you thought of when you received an email by renaming it with that idea to refer to later on
Install Rename Email from the Chrome Web Store with 1 click.
Need to send an email to your client or boss, but it's 1 a.m.? No worries.
Schedule Email lets you schedule your email to send at a later date and time.
Just schedule it to send first thing in the morning while you catch up on your beauty sleep.
Install Schedule Email from the Chrome Web Store with 1 click.
Sometimes you're just not ready to read or respond to an email.
With Snooze Email, just tell us when you want to see an email reappear at the top of your inbox. Like magic, the email will go away and return at the appointed time.
Install Snooze Email from the Chrome Web Store with 1 click.
This free extension is an essential Gmail add-on that lets you share an email message that you received as a link. This is a useful tool so that you can post a link to your email on Slack, WhatsApp, Skype, even as a text- use this tool anytime you want someone else to read an email that you received or sent.
Install Share Email as Link from the Chrome Web Store with 1 click.