In 2015, Inc.com's contributing editor, John Brandon, predicted the death of email, saying it would become obsolete by 2020.
It's the end of 2018, and no one is cancelling their email accounts.
What Brandon and other futurists didn't understand was that a collection of chat applications is no substitute for the universal reach of email.
Any true "email-killer" app would need to have one of two features:
Cross platform compatibility
Universal adoption
There's zero chance either of those will ever happen.
Here's why…
Chat Apps Aren't a Threat to Email
Everyone has an email address, but not everyone uses Facebook Messenger, Twitter DMs, or Slack.
And cross-platform compatibility simply isn't on the product roadmap for any of these services.
There will never be a day when I send a note from Facebook Messenger and my friend receives it in a Twitter DM.
That's just not the way the services are designed to work.
The closest thing we have to cross-compatibility is SMS text messages, which require you to know the other party's personal phone number.
In business contexts and many personal situations, that's an impractical option.
No Chat App Will Ever See Universal Adoption
Since cross-compatibility isn't going to happen, there's only one way any app could become an "email killer": universal adoption.
Apple, Facebook, Twitter, and Slack are the very companies with products that could—in theory—be replacements to email.
But they won't collaborate.
And what's worse, none of those companies seem able to avoid the PR disasters that wreck any chance they'd have at gaining universal usage.
Just look at some 2018 headlines:
"Facebook and Cambridge Analytica"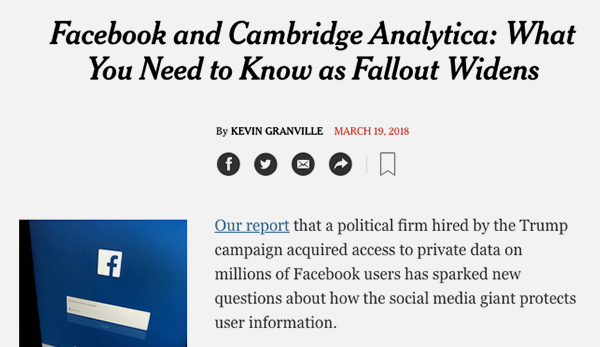 There was a time when some believed Facebook Messenger was the app that would kill email.
Facebook—with its 2.27 billion active users—was better positioned than any other company on this list to achieve near-universal usage.
Facebook has had several PR stumbles in the area of privacy. Perhaps none has been as big as the Cambridge Analytica scandal that broke in early 2018.
Cambridge Analytica, a firm hired by the Trump campaign, gained access to the data of more than 50 million Facebook users.
Facebook responded by ending its relationship with the company and launching a review of its privacy policy.
But the damage was done, causing a series of inquiries. Those inquiries included a trip to Capitol Hill for Mark Zuckerberg.
Facebook's privacy policies have come under scrutiny several more times this year.
"Twitter and Jack Dorsey's Myanmar Vacation"
In December, Twitter founder and CEO Jack Dorsey was criticized as being "tone deaf" for his comments about Myanmar, where he was visiting.
Dorsey tweeted: "Myanmar is an absolutely beautiful country. The people are full of joy and the food is amazing. I visited the cities of Yangon, Mandalay, and Bagan. We visited and meditated at many monasteries around the country."
Dorsey was criticized for being "tone deaf" after not mentioning the "plight of the Rohingya, a mostly Muslim minority group that has faced a series of vicious attacks at the hands of Myanmar's military."
"Since August 2017, an estimated 10,000 Rohingya are reported to have been murdered, according to Doctors Without Borders. In addition, at least 750,000 people, according to Amnesty International, have been forced over the border to Bangladesh."
Dorsey also testified to Congress in the fall after accusations of political bias at the company.
"Saudi Money, and the Khashoggi Murder (Slack and Others)"
Perhaps the most difficult PR story of the year for Silicon Valley has been the death of Jamal Khashoggi in Turkey.
The CIA concluded that Khashoggi's deathSaudi Arabian Crown Prince Mohammed bin Salman likely ordered the Khashoggi's killing. The crown prince has been an active and vocal backer of many U.S. technology companies.
The killing has shined a light on the flow and impact of investment money from Saudi Arabia, including funds with ties to the royal family.
Companies such as Slack, WeWork, DoorDash, and Nvida have largely remained quiet in the fallout from the apparent killing of the Wall Street Journalist.
The Key Takeaway?
The Death of Email Will Never Happen
For all the reasons we saw in 2018, we can confidently predict that no chat or social media platform will ever achieve 100% adoption.
For that reason, there will always be a need for a professional messaging application that's cross-platform compatible with a variety of different service providers.
There will be no "death of email."
It's been with us since 1972.
And it's going to be with us for many decades to come.
This is why—instead of trying to kill email—we're building tools that make email far more productive.
We built over 50 of them so far, and most are 100% free!
We invite you to try them out.