We pay a lot of attention to workplace trends at cloudHQ. They drive our strategy as we develop services and create free productivity tools.
Here's what we see happening in the next 12 months:
1. You Can't Kill Email
For years people have predicted the demise of email.
Slack, Skype, text messages, Whatsapp, Facebook messenger—these all have their place. But in business, email is still king.
Expect it to stay that way.
2. Telecommuting for Everyone
Well, maybe not everyone. But more than before.
An anonymous new platform called Remote Stories was released last week that allows all remote workers to air their grievances and share their experiences in a community space.
It's a trend where Silicon Valley companies have been hiring remote employees for awhile now. The reason is simple: access to an Earth-sized talent pool.
Expect telecommuting to continue to rise in 2017.
3. The Gig Economy Keeps Growing
The Gig Economy has been a trend for years now, and it shows no sign of stopping.
In fact, Intuit's 2020 report predicts 40% of the workforce will be freelancers in the next few years.
And why not?
Companies will always need employees, but for those times when you truly need an expert or for skills you only need sometimes, hiring a freelancer is just plain smart business.
4. Cyber Attacks
We live in a world where your data could be stolen, hacked, destroyed, or held hostage.
Yahoo recently announced had one of the largest data breaches in history. It's going to happen even more in 2017.
If you haven't seen the World's Biggest Data Breaches data visualization, you should: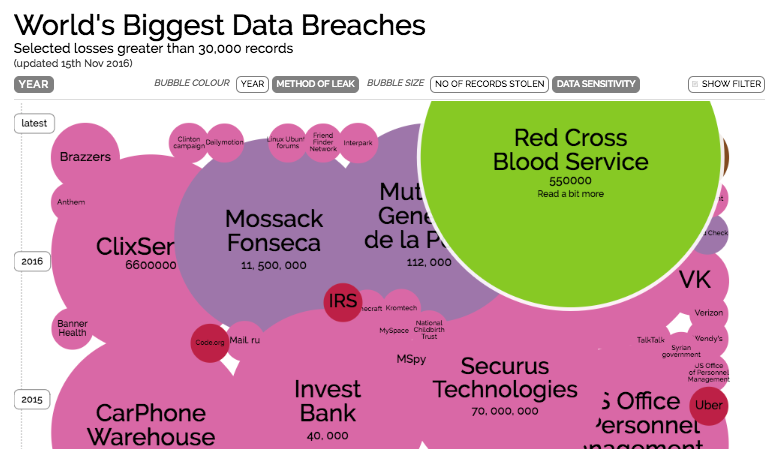 Expect these cyber attacks to continue in 2017.
If that makes you nervous (and it probably should), definitely check out our one-way data backup service along with our industry-leading security standards for how we handle your data.
5. Even More Time in the Browser
There are good reasons we worked so hard on free Chrome productivity extensions this year.
First, because Chrome dominates the browser market:
But also, because people are doing more work in their browsers than ever before.
Think about everything you used to do on a desktop application you now do in the cloud.
CRM, project management, word processing, note taking, spreadsheets, accounting, banking, presentations, and dozens of other software programs—all have moved from the desktop to the cloud.
It's a trend we don't see stopping anytime soon. Which is why we'll keep working on free Chrome productivity extensions.
What to Expect from cloudHQ in 2017
Whatever comes this year, at cloudHQ, we'll continue building tools to make your life easier (and more productive!).
We'll keep track of what's going on in technology and the world.
We'll add new features and options to our powerful cloud syncing services.
And we'll keep improving our library of free productivity extensions.
As you make your 2017 plans, we invite you to give them a try.
Chrome Productivity Extensions