Did you know that a staggering 40% of people identify as shy? This can make introducing oneself quite a challenge! Introductions are important. After all, the first impression is the last impression if you are using cold email outreach.
You might doubt if the tone is right if you sound confident enough, or maybe you think you overdid it, and now the message sounds like you are boasting about your achievements.
Is there such a thing as a perfect introduction email? Let's look at some of the ways you can improve the way you write introduction emails:
1. Don't Ignore the Subject Line
Your message will only be rotting in the other person's inbox if they don't open it. You obviously wouldn't want that, would you? So, how do you make sure they open your email? Writing a compelling email subject line can be quite helpful because it will catch their attention among other redundant subject lines.
Remember, follow the instructions if the other person has asked you to use a specific subject line. They might have a reason to do so, and if you are applying for a job, using the wrong subject line may also get you rejected instantly.
Keep things interesting but always remember why you are writing the email. Keep things professional if the communication is formal. However, don't hesitate to get creative if the interaction is casual.
2. Define the Purpose
The introduction email has a purpose.
Are you writing to introduce yourself as a potential candidate for a job?
Are you introducing your business to a potential financier?
Are you welcoming a fellow employee to the team and want to tell them about the work culture?
There are multiple reasons you could be writing the email. So, keep that in mind and don't lose sight of it.  A simple tip to avoid this is to write down points you need to cover in your message.
3. Use a Cover Letter Template
Using Google Docs Templates by cloudHQ for cover letters and cold outreach letters offers a range of benefits. These professionally-designed templates save time and effort by providing a professional starting point for your communications.
Additionally, the templates are easily customizable, allowing you to tailor your message to each recipient effectively. By using cloudHQ's templates, you can make a lasting impression on potential employers or clients, significantly increasing your chances of success.
Get Google Docs Templates
4. Use an Email Template
If you don't want to attach a document, and prefer to include the information right in your email, you can try using a template for introduction email. The email templates will help you with the structure and save time to focus on other details. The template will allow you to introduce yourself by creating emails that perfectly balance confidence and humility.
To find the best introduction email templates, download Gmail Email templates by cloudHQ. The incredible app allows you to choose from hundreds of pre-designed templates or create your own. Moreover, you can use the free add-on or extension to create stationery for your company that you can use in your emails.
Get More Email Templates
5. Use ChatGPT for Gmail to Generate Content
Having writer's block? Fret not! You can use ChatGPT for Gmail to generate a message per your needs. Simply use "@chatgpt" and feed the AI a prompt right in your Gmail. It will deliver an introduction email you can send without worrying about writing a long email.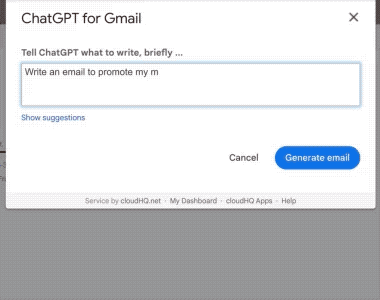 If you have already written your email, run it through the tool to see if it can be improved. ChatGPT can also tell you if there are any errors or mistakes in your content. So, before you hit send, run it by ChatGPT to ensure your message is error-free and the tone is just right.
Get ChatGPT for Gmail
The Last Word
Whether you are a small business owner, student, or freelancer, you are going to have to introduce yourself over email at some point in your life. Hence, using an email template for introduction email will lessen your stress.
Don't work harder, just work smarter!