Tired of manually following up on emails? Use a simple Gmail autoresponder to create an automated follow-up sequence.
Here's a mystery of modern business…
For salespeople, 60% of customers say "no" four times before saying "yes." At the same time, the average sales rep makes only two attempts to reach a prospect before giving up (source).
If that sounds like a lost opportunity to you, it does to us too!
To help salespeople (or anyone who needs to remember to follow up on emails!), we've added a small but powerful new feature to our Gmail autoresponder tool: Auto Follow Up.
It enables you to set a Gmail autoresponder sequence for any email you send from Gmail—all with a single click.

How to Create an Autoresponder Email Sequence
Here's how to setup a new Gmail autoresponder in just a few minutes.
Step 1: Install Auto Follow Up for Gmail from the Chrome Web Store
Auto Follow Up for Gmail is a free Chrome extension available in the Chrome Web Store. It installs with a single click.

If you've never used a cloudHQ product before, you'll be asked to create a free cloudHQ account, which takes only seconds.
Step 2: Create a follow-up email sequence
Open your Gmail account and click the brand new Auto Follow Up button—which will display in the upper left of your screen under "Compose".

Under the "Automated Email Templates" tab, you can:
Use the pre-written templates we already drafted for you
Create individual emails
Create a campaign sequence of emails

By choosing a campaign, you can create a sequence of emails to be delivered over several days.
This step might take a few minutes, but once you have your follow-up emails in place, the rest is easy!
Step 3: Compose a new email and select a follow-up email or email campaign from the draft window
Go back to Gmail and click "Compose" to draft a new email.
From the bottom of the draft window, you'll see a new check box where you can select a email template autoresponder, or a sequence of emails from the email campaign you created in Step 2.
You can also do this from an email in your sent folder, and apply a sequence of emails to an email that you already sent. For example, you could auto send a follow up in 2 days to ask: "Did my email help you?"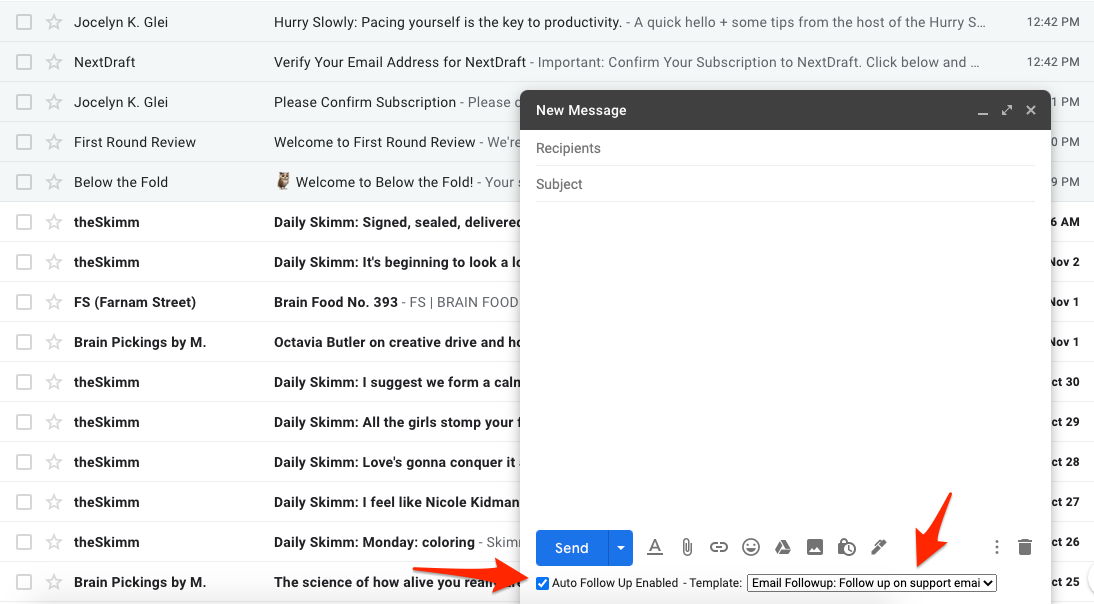 Check the box, select an email or a sequence, and send your email!
From here, the follow-up emails will happen automatically.
Who can benefit from a Gmail autoresponder sequence?
If you use Gmail to send follow-up emails on a regular basis, you can save time and improve your results with automated follow-up emails.
1. Sales professionals
Salespeople are among the most active users of Auto Follow Up because it's an easy-to-use, free tool that's great for anyone in sales.
Don't forget to follow up with prospects or customers; automate the task! Auto Follow Up is the easiest, fastest way to follow up with the right message—on time, every time.
2. Customer support and customer service
Using Gmail for customer service or customer support? If so, Auto Follow Up gives you a simple way to send follow-up communications after communicating with a customer.
One common way to use a Gmail autoresponder tool is to set an automated CSAT email for a day or two after a customer service interaction. That way, you never forget to follow up to ask what they thought of your customer service.
3. Business owners and entrepreneurs
Looking for investors or business partners? Or are you hustling to land a new strategic partnership? Just like salespeople, the best thing you can do in these situations is to automate your follow up.
Auto Follow Up is an easy way to automate follow up messages so those business conversations never go cold.
4. Nonprofits and charity organizations
Fundraising requires lots of follow-up. Automate your messages so you don't lose touch with your biggest supporters or opportunities!
5. Political campaigns—including local campaigns such as school boards or city commissioners
National campaigns have huge staffs and a full suite of technology tools to help them reach potential voters. But what if you're running for a local election on a shoestring budget?
Auto Follow Up is a perfect way to communicate with a local constituency by setting up a Gmail autoresponder sequence.
Pro tip: Check out MailKing, another free tool from cloudHQ that lets you set up email broadcasts to your supporters directly from Gmail.
6. Recruiters
If you're a recruiter, you're juggling dozens of conversions with prospects all the time. It's easy to let one of those conversations sit idle for several days because you were too busy working on other opportunities.
Use Auto Follow Up to set simple follow-up messages to send on your behalf—that way, none of your conversations go stale just for lack of a follow up.
7. Job seekers
Searching for your dream job? Or just your next job? Stand out from other applicants with a simple Gmail autoresponder sequence.
If you have a Gmail account, you can do this in just a few minutes using Auto Follow Up and the steps listed above.
8. Internal communications
Are you a boss or an administrative assistant? If so, you spend a lot of your time following up with internal stakeholders to get things done.
Use automated email for approval follow-ups, gathering input, or ensuring nothing gets forgotten.
9. Anyone who regularly needs to follow up
No matter your situation, if you regularly follow up with people by email, Auto Follow Up can help you save time and improve your results.
Make sure those follow-up emails happen!
Auto Follow Up: A Perfect (free!) tool for Anyone Looking for a Gmail Autoresponder
The tool is free to install and use for anyone with a Gmail account or a business email hosted through G Suite.
Install it today with just a single click!