Ever wish there was a super-quick way to make a video screen recording?
The other day I had a question for my teammate, Naomi.  It was complicated—something that was easier to "show" than to explain in words.
Here's a screenshot of the email that she received:
What you're looking at is the all new Screencast Recording for Gmail.
It's the latest addition to our growing library of free and low-cost Chrome productivity tools.
The best thing about it? It's FAST. It took exactly 84 seconds:
1 second to click a button in Gmail.
53 seconds for the screen recording.
30 seconds to "embed" it.
Here's how it works—plus a few situations where you might find it helpful.
How to Use Screencast Recording for Gmail
Screencast Recording for Gmail does just what it says it does. It records your screen and audio from your computer's microphone. Then, it then embeds video in a Gmail message.
There's no need to download special software, export videos to your desktop, or upload anything to a third-party site.
Here's how it works in three simple steps:
Step 1. Install Screencast Recording for Gmail
Start by installing the Screencast Recording for Gmail Chrome extension, which takes just a moment.
Once installed, you'll see a new Screencast button in every new message you create in Gmail:
Step 2. Click the Screencast button and record
After clicking the screencast button, you can share:
Your full desktop
A single window
A single Chrome tab
When you make your choice, the screen recording will start. When you're done, your video will automatically load into your Gmail message: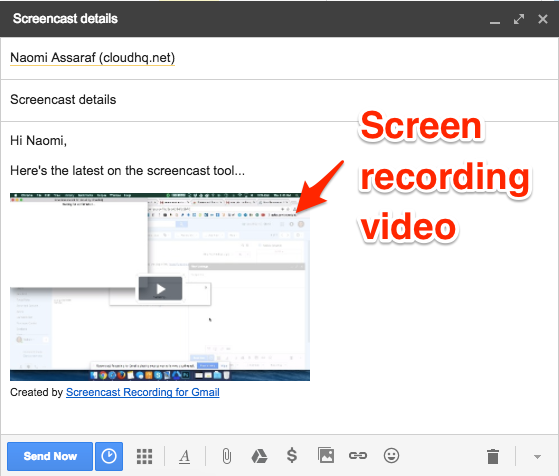 Step 3. Send the screen recording
Send the video as you would any other email. When recipients click "play," they'll be directed to a unique, secure website to view your video:
When to Use Screencast Recording for Gmail
No one likes to get a novel in their inbox. And writing a long, complicated email can eat up hours of your day.
Screencast Recording for Gmail is the perfect alternative for complex emails to teammates, clients, employees, or anytime you have a message that's easier to "show" than write out in words.
Providing feedback for employee's work
Sending notes to a client or contractor
Describing a feature to a sales prospect
Showing a customer how to fix a problem
To impress someone at a company where you'd love to land an interview.