The new look for Gmail first landed in July. It features a redesigned user interface that sports subtle elements of its Material Design theme, plus a host of new features aimed at boosting productivity.
This latest update is for Gmail's web-based email client, which is the PC version. It follows earlier updates to the Gmail mobile app, designed for smartphones and tablets, as well as the Inbox by Gmail app.
(Inbox by Gmail allows users to access their priority emails only and serves as a testing ground for new features such as Smart Reply, Nudges, and high-priority notifications.)
Here's what the new web-based Gmail inbox looks like:
New look
Besides the larger fonts which help the content stand out and the ever-so-slightly more minimalist appearance, the main difference is a brand new sidebar on the right side of the page. This feature will be useful for those who use Google's other apps, including Calendar, Keep (a note-taking app), and Tasks (for listing work-related to-dos).
Simply click on one of the icons in the sidebar to expand it and open the desired app, and you'll be able to access it from directly within Gmail.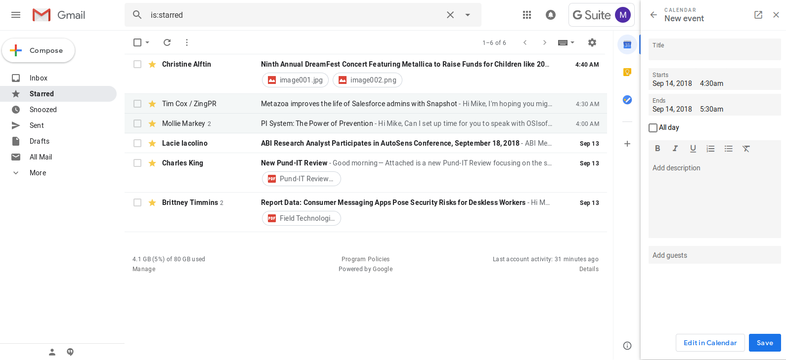 Making these apps more accessible means you can write notes and schedule meetings faster without having to leave your inbox.
You can also download additional apps and add-ons from Google's G Suite Marketplace. Just click on the "+" icon at the bottom of the sidebar. Once downloaded, these will also appear as icons in the new sidebar for your convenience.
The new default layout of your inbox provides quicker access to email attachments, as well. You now have the option to open any attachment straight from your inbox without first clicking on the message.
But if you don't like this layout—which can look a bit cluttered—Google offers two alternatives that remove the attachment icons. You can use the "Comfortable" view with messages slightly spaced apart, or the "Compact" view with messages displayed more densely.
New features
Many of the features that first showed up in Inbox by Gmail are now integrated into the desktop version. These include the popular "Smart Reply" feature, which you may have already seen on the mobile app.
Smart Reply allows you to send frequently used email responses without having to type them out yourself. The reply options automatically show up at the bottom of emails, and you simply click on one to send it.
The smart messages are generally short, sweet, and widely applicable. Examples include "Okay, thanks for letting me know," and "That would be great, thanks." This feature should be quite useful for anyone who finds themselves spending a lot of time in their inbox.
Another new feature—first introduced in Inbox by Gmail—is the "Snooze" button. Now you can temporarily remove messages from your inbox and have them reappear at a later time.
With these enhancements to the web-based Gmail inbox, Google says there's no longer any need for its Inbox by Gmail app, which will be killed off by the end of March 2019.
How to get the new Gmail
The new Gmail redesign has been slowly rolling out to all users, beginning in April with the Early Adopter Program.
If you haven't seen the new UI yet and want to check it out, click on the settings icon in the top right corner of your inbox. There you should see an option to "Try the new Gmail". You can also click the same icon in the new UI to switch back to the old one if you don't like the new look.
However, Google says it will automatically migrate all of its users to the new Gmail UI by October 16, 2018, at which point it will kill off the old Gmail for good and prevent users from reverting back to it.