We're celebrating both Easter and Passover this week at cloudHQ. As we often do, we're busy creating holiday messages for friends, family, and important clients.
Our CMO Naomi, in particular, has a tradition of sending emails to friends and family this time of year.  This year, however, she's not writing emails. She's recording videos using our new Video Email Gmail extension.
"It's so easy, why wouldn't I send videos?" she told us earlier in the week.
Video Email Is Perfect for Deeper Connections
Text can only feel so personal. It does a bang up job most of the time, and a decent-ish job when done right.  But video is on a whole other scale of its own. Check these stats out:
When you include a video in an email, you have 80% more chance of a conversion.
That's on top of a 300% higher open rate.
Why is that? You create a more meaningful connection hitting on senses that are visual, and audio simultaneously. When you can hit more senses at once, you'll reach your desired goal in a much faster way, with much more emotional attachment.
Whether it's just to say "Hi" to your grandmother and have your kids in the video with you, or if it's to reach out to your best customers and offer them something very exclusive, Video Email is the perfect tool to make them know you care.
How to Record a Video Email With A Few Clicks
Here's how to record and send a video email in just seconds.
Install the Video Email Chrome extension for Gmail
Click "Compose" to open a new message
Click the video button
Record your video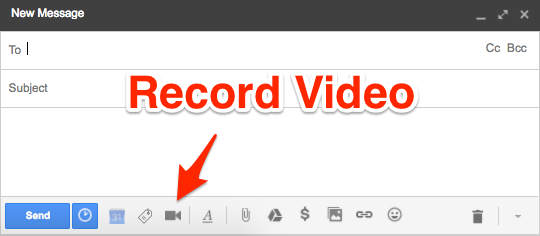 The extension will spend a few seconds processing and embedding your video in the email. When it's done, click "Send."
That's all it takes.
You can email the video to one person or a list of people. And if you want, it's easy to copy the video link and drop it into Messenger, Skype, WhatsApp, or any other chat platform.
A Personal Video is as Special as a Handwritten Note
Receiving a personal video is as special as receiving a handwritten letter, but takes far less time, and a personalized video actually means more to the recipient because they visually get to see you and connect with you in a different way than text ever could.
The next time you want to send a note to someone important in your life, don't spend 20 minutes writing an email. Spend 2 minutes recording a video instead. Your friend, family member, or client will be glad you did.
Send a Video Email Now