Cold email isn't just for salespeople.
You may not have considered it, but cold email is a tool that can work for anyone—including you.
To be clear, when we say "cold email," we're not talking about mass emailing a list of strangers.
We're talking about reaching out to one person with a message crafted just for them.
When to Use Cold Email
Cold emails are for making a connection. They can be perfect for connecting with:
Executives or managers in your company. Anyone who needs to know what you know
Potential mentors. People you admire and from whom you hope to learn
Prospective clients or customers
Business partners
Employment prospects
Investors (or potential investors)
Or, anyone else you'd like to connect with.
When you do reach out, here are some things to remember:
1. Keep it Short
Rule #1: Keep cold emails short—less than 100 words is perfect.
Most people struggle with email overload, especially executives and managers.
So, make your message scannable and easy to read. And keep it brief.
2. Be Specific
You're emailing for a reason.
You have information to give, a favor to ask, or a question you need answered.
Include details and be clear about your message. But don't mince words.
3. Be Disarming
Cold emails are not sent to subordinates.
They're usually sent to people of equal or higher rank—or outside your organization completely.
So, be polite. Acknowledge you're sending a cold request. Apologize for interrupting their day.
Then say what you need to say.
4. Include a Next Step or Specific Meeting Time
If you're emailing to begin a conversation, tell the person what you'd like them to do next.
Do you want a reply? Do you need a specific action to happen? Do you need a meeting?
Say so.
Just providing information and don't need a specific next action?
Say that too.
Sometimes, the best email anyone can receive ends with the phrase:
"FYI only. No response required."
5. Use a Reservation Tool
If you want a meeting, don't write something vague like "could we have a meeting?"
Instead, propose a specific meeting time. Then add a link to your calendar so they can make an appointment right then and there.
No back and forth required.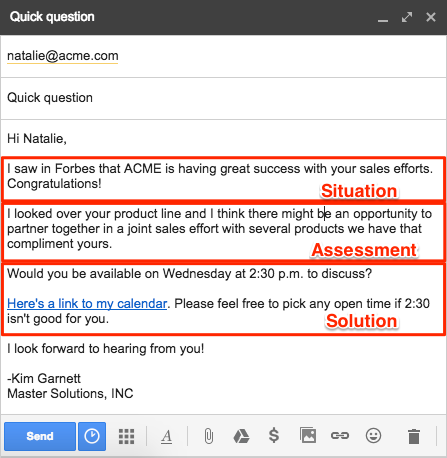 The SAS Cold Email Formula (Situation – Assessment – Solution)
A simple formula you can use with any cold email is SAS:
Situation
Assessment
Solution
Here's what one looks like:
Tools That Can Help
If you don't have a calendar tool you can share, our free Meeting Scheduler for Gmail is just what you need.
You can also check out or growing library of Chrome productivity tools, which we've created for people just like you.
Free Chrome Productivity Tools