A simple process to save emails as a PDF using Gmail search — with just the click of a button.
Ever need a full record of your emails with single contact in Gmail? Maybe with a client, an employee, or a sales prospect? If so, you can save emails as a PDF using Gmail search and our newly updated free application for Gmail: Save emails to PDF.
Here's how it works.
Get Save Emails to PDF
How to Save Emails as a PDF Using Gmail Search
Step 1: Download the free Save Emails to PDF Chrome extension
Start by downloading the Save Emails to PDF Chrome extension, which is free in the Google Chrome store.

Step 2: Open Gmail and select your options
After you've installed the extension, open your Gmail account. From here, you'll select a storage location for the PDF copies of your emails. You can just keep "Downloadable PDF" if you don't want to save your emails anywhere other than to a downloadable PDF document.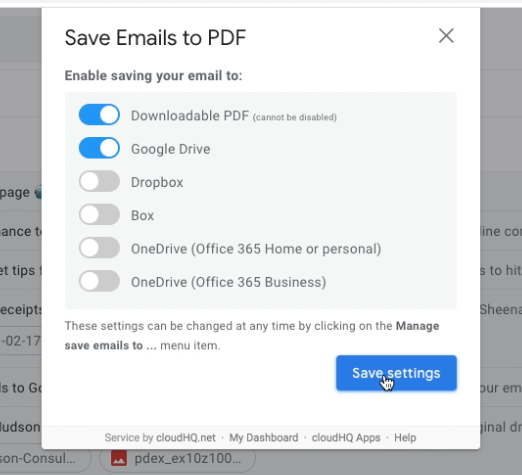 You can use a variety of storage options, including Dropbox, Box, or Google Drive. For our example, we will download our PDF directly to the hard drive.
Step 3: Use the Gmail search box
Using the Gmail search box, type "from:" and then the email address of the contact you want to search.
This will create a list of every email you've received from that email address. To select every email, click the box at the top of the results.
Step 4: Click the 'Save to PDF' button
When you've selected the emails you want to save as a PDF, click the "Save to PDF" button.
This will convert all the emails you selected into a single PDF.
If there are a lot of emails, it may take a few minutes for the conversion process to complete. When the process is finished, the PDF will automatically download to your hard drive, or it will be uploaded and saved to the cloud storage location you selected in step 2.
When to Save Emails as a PDF
Saving emails from a contact using Gmail search is perfect for any situation where you need to create a PDF record of your Gmail messages with a single contact. For example:
Freelancers and consultants who need a record of communications with a client for billing or a permanent record.
Lawyers who need to use client emails as evidence in a case.
Human resource professionals building a record of email communications with an employee or an outside partner.
Accountants who need a file of receipts, invoices, or expenses from a client.
Business professionals who need a record of their email receipts for expense reports.
Anyone who wants a personal copy of their emails with a contact — for any reason.
Try it Yourself in Less than 2 Minutes!
Save Emails to PDF installs in seconds and is free to use for anyone with a Gmail account or an email address hosted by Google Workspace.
Try it for yourself today!
Get Save Emails to PDF