cloudHQ's free Send your email to SMS (Text) tool just got even faster.
When you need a response from a coworker, contractor, or contractor ASAP, there is no faster method than text messages.
We created Send your email to SMS (Text) to let you send text messages directly from Gmail, enabling you to get things done ASAP when you need to.
By adding MMS text messaging, we've made it that much easier for your recipient to receive and take action on your message.
We realize that may sound like a lot of tech speak, so here are three quick reasons MMS messaging can make you more productive—especailly when connected to your Gmail.
Reason #1: Instant Previews
The difference between "SMS" (short messaging service) and "MMS" (Multimedia Messaging Service) is the media.
Send a text message to a friend on your iPhone? That's an SMS message.
Send a photo or video? That's an MMS message.
In the case of Send your email to SMS (Text), it's the difference between a message that looks like this: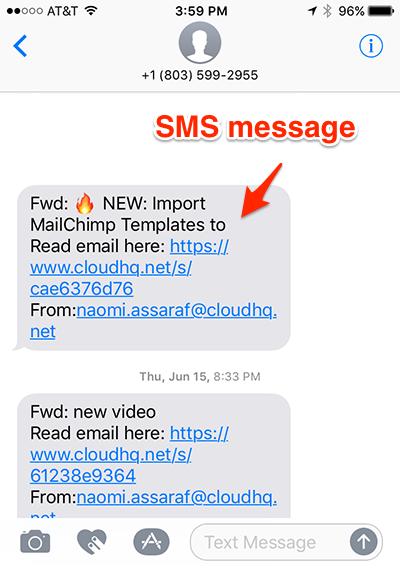 And a message that includes a preview of the email message you sent, which looks like this:
Reason #2: Faster Responses from Recipients
Since your recipient will now have an instant preview of your note, it'll be easier for them to see your message and respond quickly.
Whatever your reason for sending text messages, you're more likely to get a fast response when an MMS image is automatically delivered to your recipient's phone.
Why so effective?
Because 91% of adults keep their smartphone within reach at all times.
And MMS messages have the highest click-through rates when compared to any other message type.
Reason #3: Better Notifications for You
Finally, Send your email to SMS (Text) can also be configured to alert you anytime you receive a message from specific people.
For example, I personally use these notifications to ensure I get an instant notification anytime Naomi sends me an email:
Having MMS text messaging means I don't have to click into the browser to see her message.
It's available as an image right there with the text message, making it easier than ever for us to communicate.
Perfect for When It's Important
When a deal is about to be lost…
When a job candidate is minutes from accepting a job offer from another company…
When something is broken and you need your developer to fix it ASAP…
Send your email to SMS (Text) messages are your fastest, most accurate, option for getting it done fast.
Install Send My Email to SMS (Text)
Install Send My Email to SMS (Text)