We've been releasing a steady stream of free Chrome productivity extensions lately.
From calendar scheduling to note-taking inside of Gmail, the extensions create a lengthy list of new Gmail functionality.
We're heavy users of our own tools of course.
In this article, we want to show you some of the most ninja Gmail hacks we've found to use cloudHQ extensions in our work.
All three of these tips can be done 100% for free—directly within Gmail.
Ninja Hack #1: Instant Text Notifications for Important Emails
Did you know it can take over 20 minutes to refocus on a task after being interrupted?
This is why those innocuous email popup notifications are such productivity killers.
They keep you from finding flow—wrecking your productivity and potentially your happiness at work as well.
I took the hint a few years ago, turned off email notifications and haven't looked back.
With that said, in my work, there are a few VIPs with whom I like to be extremely responsive.
When one of my VIPs sends me an email, I want to see and respond immediately.
So… what to do?
Answer: Instant text notifications.
This is a feature of our free Send Your Email to SMS (Text) Chrome extension.

https://www.youtube.com/watch?v=HggdZLVD_ww
Using it, I can set up text message alerts that ping me when a VIP sends me an email.
This way, I can work in peace—without being bombarded by desktop notifications.
But—I can also respond in minutes anytime someone important sends me a message.
Text notifications can be configured in seconds by clicking the "SMS Notifications" button the extension adds to your Gmail.
For example, I've set the tool to send me text notifications for all emails from Naomi: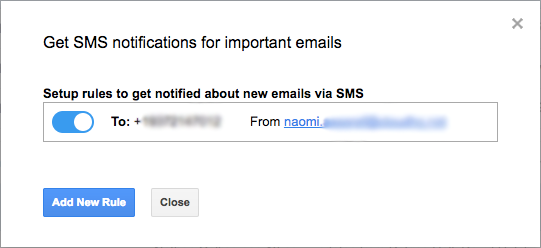 You can (and probably should) do the same with your boss or your major clients.
It's been extremely handy on more than one occasion, especially in situations when there's a problem that needs to be fixed ASAP.
Ninja Hack #2: Custom Calendar Invites
Calendar scheduling apps are amazing.
No email back and forth. No time zone problems. It's all managed by the software.
But, there's nothing ninja about a calendar link.
There are a dozen or so apps that can sync your calendar and share your availability with ease.
In Real Life: I Want to Set Different Availability for Different People
Here's where our free Meeting Scheduler for Gmail tool really shines.
Let's say I have two people who've requested a meeting with me.
With most calendar apps, I just send my calendar link to both people so they can schedule meetings with me.
Key detail: With most scheduling apps, I'd share the same link and the same availability with both people.
In reality?
That's not what I want to happen.
In real life, there are some people for whom I make myself available pretty much whenever.
For others, I don't.
My hunch is you'd prefer to do the same.
Creating Custom Availability on the Fly for Different People
Enter Meeting Scheduler and its custom calendar links.

https://www.youtube.com/watch?v=Z-QZhiSRCBA
Important detail: Meeting Scheduler doesn't give me one calendar link to share with many people.
By default, it creates a unique link with custom availability every time I send a calendar invite.
I know that seems like such a small thing.
But look at what it means in practice:
Using Meeting Scheduler, I choose the times I want one specific person to see as available in my calendar.
Then, two minutes later, I can create a separate link for the VIP I want to see wide-open availability on my calendar.
A subtle difference?
Yes.
But it's a powerful one in practice.
3 Ninja Hacks, 4 Free Tools
As a final reminder, you can execute any of these Gmail hacks for free.
You just need a Gmail account (or an email account hosted by G Suite) and the four Chrome extensions mentioned above:
All can be installed in just seconds for anyone using Gmail.
Those are just a few of the many Chrome productivity tools we now have available.
Get Gmail Time Tracker