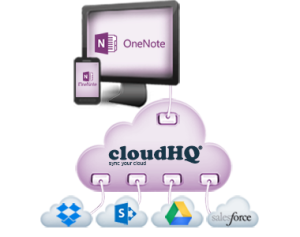 Microsoft OneNote is one of the most useful tools in Microsoft's growing suite of cloud services. Conveniently, with cloudHQ, you can easily sync it with other cloud-based services, which is a great way to get more done quicker because these days it can feel like no one has enough time.
Here are our top tips for 3 of the most essential cloud services in any businesses' tool kits:
1. OneNote + Dropbox for Business
Within OneNote is Office Lens, which is a great new way to photograph documents, whiteboards, and business cards.
Take a picture with OneNote, which has a built in lens equipped to help the app extract data from documents.
OneNote automatically converts business cards into a digital format, which makes it easier when trying to remember that guys name from that networking event the other week.
Next, save the file directly to Dropbox.
You can also set up a sharing link with Dropbox and email that to colleagues who may also need the contact information you've just collected.
Pro Tip: Reach out to Dropbox on Twitter if you have any difficulties sharing or saving files from OneNote (they respond quicker than via other channels).
2. OneNote + Salesforce
Nearly one year Microsoft and Salesforce announced a strategic partnership, which is one reason behind the recent acquisition rumors. Whether Salesforce joins the Microsoft family or not, these integrations across multiple services are hugely beneficial for SMB's & Enterprise customers.
This integration was across all key platforms (Windows, Office 365, OneDrive), enabling Salesforce and Microsoft customers to be more productive, more easily. Many Salesforce staff were using OneNote as soon as it came out, with many calling for an easy integration that never arrived.
With cloudHQ, you can sync all of this data directly, allowing you to use OneNote within Salesforce, rather than switching between the two apps.
Book an appointment with a Cloud Infrastructure Expert now:
Talk to a Cloud Expert