2 New Gmail Productivity Features
We've got two brand new features we're excited to show you:
Quick email share lets you share any email with just a link.
Smart labels lets you group your emails from someone in an email folder so that you can easily find them later.
Both are free for anyone using the Gmail Label Sharing and Email Sharing Chrome extension.
1. Quick Email Share
Dropbox made it easy to share links to files and documents. Now we're doing the same thing for your email.
Quick Email Share is a simple feature that lets you share an email with a link. This will let you share emails just like you would documents from your Dropbox or Google Drive folder.
To share an email, click the link icon next to the message in Gmail: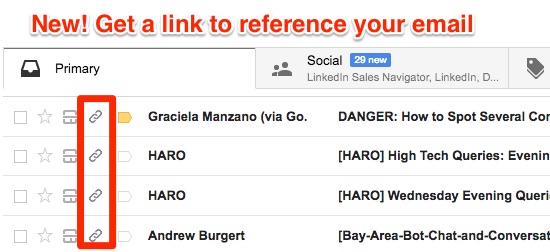 cloudHQ will create a link. Then you can simply copy the link to your clipboard.

Once you've copied the link, you can share it just as you would a Dropbox or Google Drive link.
When the link is clicked, it will display a PDF copy of the email from your inbox.
2. Smart Labels
Smart labels make it easier to organize and classify your email. They make it easy for Gmail users to automatically classify all email conversations with certain client, customer, or contact.
To use them, open any email in your inbox and click "Reply" or "Forward" to open the dialog box. Then click the Smart Label icon: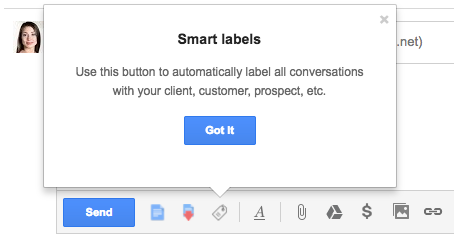 For example, if you're a recruiter, you could easily label all emails from a certain prospect to keep track of them—all with just one click. It's a great way to create an Applicant Tracking System on the fly:

Gmail Label and Email Sharing
These 2 new features:
Works for anyone using a Gmail or G Suite account, and a Chrome browser.
Saves you a lot of time.
Demonstrates how organized you are.
Keeps your communication really clear.
Is 100% free!
Get Gmail Label and Email Sharing Now