Creating a beautiful email template can be time consuming, but Gmail Email Templates now features an option where you can duplicate any email that you ever received by:
Clicking on 1 button to duplicate it
Customizing your message, images, and links
Sending it out as your very own professional-looking email
Here's a quick movie showing just how easy it is to do:
As you can see, it works right out of Gmail, and is easy to customize.
Here's how to create one.
1. Install Gmail Email Templates from Google Chrome Web Store
Step one is to install the new Gmail Email Templates extension from the Chrome Web Store.

Gmail Email Templates installs in seconds and is free to use for anyone with a Gmail account.
2. Create an Email Template by Copying One That You Received
You'll see the new "Save to" button on top of any email you receive in your inbox. Simply click on "Convert to Template" in the dropdown menu, and give it a few seconds for it to duplicate the email.
3. Customize Your Email as Your Own
Once the email is duplicated, you can change the text, images, and links just by editing it as you would a normal email. Here's our before and after: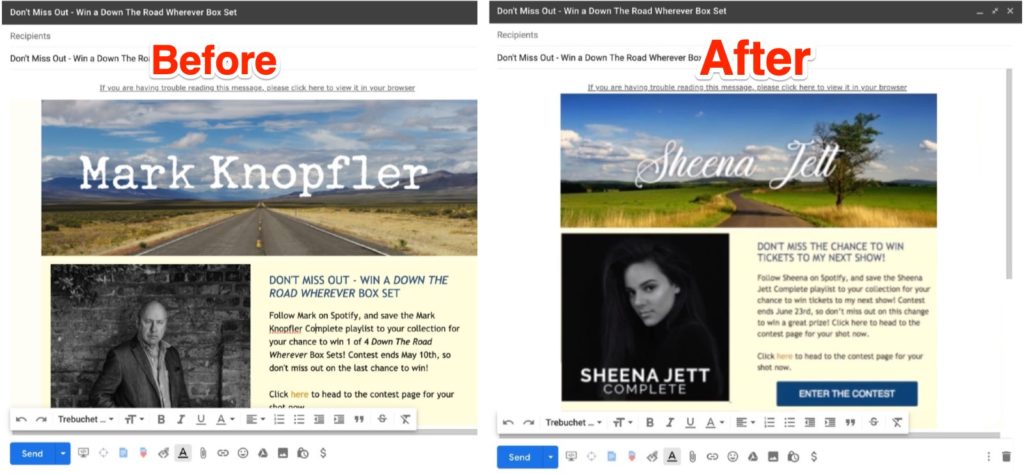 Give it a shot today, and save a ton of time from having to reinvent the wheel.
Gmail Email Templates is free, provides you with access to our email template library, and is a smart way to build emails that make a great impression.

This email template copying Chrome extension is great for:
1. Marketing emails
Never before have marketing emails ever been so easy to create using Gmail Email Templates.
Use a template that we provide you, build one yourself, or simply copy one from your favorite retailer.  Having a beautiful email helps your email recipients engage with your message- and isn't that what we all want?
2. Realtors
If you work in real estate, you know that there's a really successful realtor that you probably admire, and they're sending out impressive-looking emails. Maybe they have a whole team working on it, and you know that they're making hefty commissions.
Because it's healthy to "fake it until you make it" in this industry, this free tool lets you copy their exact format that they spent lots of money creating. All you need to do is get on their emailing list and change their message to yours.
Now, go get those commissions!
3. Job Hunters
Are you wanting to stand out in a sea of candidate applications?
This will make it a breeze. Just copy your favorite looking email template, and customize it to look like you want it to look like. You can even check out this blog that gives you extra tips to help make you be highly memorable.
Best of luck, and enjoy the interview request offers that's about to come in!
It's free. It installs in just a few seconds. And you can use it as often as you want.
It's your time to shine with Gmail Email Templates!