Holding an open house? A recruiting event? A one-day sales event? Send your invite emails as you normally would.
But for your VIPs, send a text as well.
7 Stats That Prove You Should Use Texts in Your Business
Why use text messages in your business?
Because, while the average open rate of emails is below 30%, text messages have a jaw-dropping 98% open rate.
Here are a few other stats we found while researching the effectiveness of texting for business:
Texts have a 98% open rate (source)
95% of texts are read within 3 minutes (source)
91% of people who text prefer it over voicemail (source)
78% of people wish they could have a text conversation with a business (source)
89% of people believe it's important to have different options such as phone, email, text and chat for customer support. (source)
Response rates from text are 209% higher than those from phone calls (source)
The average SMS campaign is opted out less than 5% of the time (source)
To put it mildly, text messages are the most effective communication channel currently available.
New Features to Use Text Messaging for Your Business
Sending texts instead of emails are a great way to get more people reading your message.
The problem lies in clear messaging- when you send a regular text,  you're limited to 160 characters. Did you ever receive offers that are chopped up into 3 text messages and are cryptic? Us too… it's not pretty.
With Send Your Email to SMS (text), a free tool you can use to send emails to SMS text from Gmail, you aren't limited to 160 characters, so your message is clean: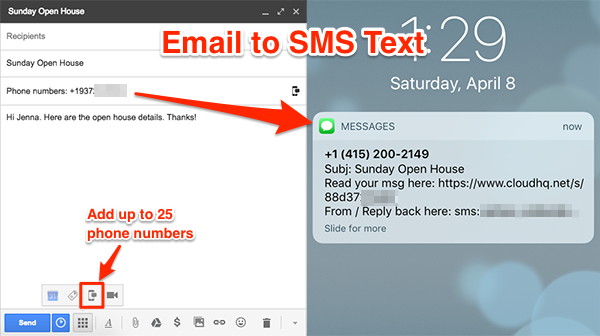 We recently added 3 new features:
Send an email to up to 25 text recipients at once.
The text message you send will have the same area code as the receiver's area code.
Integration with Google Contacts, which lets you autocomplete phone numbers from your contact list just by typing their name.
Pro Tip Alert*
Did you know that we also have free Gmail Email templates where you can edit the words to personalize your message?
When you incorporate a template, not only is your message clean, but it's beautiful too. Check out how it looks when we used an email template with Send Your Email to SMS:


It's easy to try Send Your Email to SMS (text). Give it a try and get more responses.
Email to SMS