We love Gmail.
We don't love formatting emails in Gmail.
For some reason, Google hasn't made it easy to create good-looking, nicely-formatted emails using Gmail.
So… we built a free Chrome extension to fix that.
Format a Message, Newsletter, or Report in Google Docs, Then Import Directly to Gmail
It only takes one click.
Build your message, newsletter, or report in a Google Doc.
Then click the Open In Gmail button in the top right corner of your document.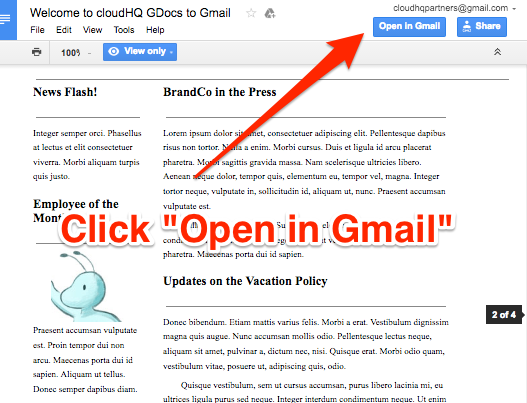 And voilà!
Your message will import into a perfectly-formatted Gmail message.
Make your newsletter, click a button, add your distribution list, and send!
That's all there is to it.
Convert Google Docs to Gmail is 100% Free
Convert Docs to Gmail is the best way we know to create beautifully formatted emails in Gmail.
It's also 100% free for anyone using Gmail or Google Apps.
Download Chrome Extension