Install the Gmail signature generator that delivers results
A solid business email signature is more than just contact information, it is a promotion and engagement opportunity. Some email recipients will spend more time looking at our emails than our lovely faces in person. With a polished email signature, every email communication can do double-duty in a way that keeps you top of mind. Your business email signature might include:
An image of you or your logo
Social media profiles, increasing your social engagement
Legal disclaimers to protect your clients and your company
A YouTube video to describe what you do, or include a personalized video—which is especially great for new listings that realtors might want to show
A link to your sales page, or maybe your latest blog post or company press release
An engaging banner that wishes your customers happy holidays
A link for recipients to quickly schedule a meeting, simplifying a future interaction with them
Most of all, it should be quick and simple to set up!
We just launched a Free Email Signature Generator for Gmail that takes all the effort out of designing a unique business email signature, while giving you a suite of handy tools at your fingertips.
Here's a quick video that explains how you can create your own email signature in just a few seconds:

Now that you've seen all the fun things you can do, let's take a step-by-step deeper dive.
Step 1. Install Free Email Signature Generator for Gmail
You'll need to install Free Email Signature Generator from the Google Web Store. Just click here.
Step 2. Enter Your Work Details
Once installed, an "email signature details" window will automatically pop up. You can also click the "Manage Gmail Signatures" icon located on the bottom on every email. This will always be available to you so that you can add more customization.
Fill in the contact information, your website and upload your logo or picture. Once completed, you can have a little fun designing the look and feel using the other three icons on the left. Let's review them together.
Step 3. Introduce Email Recipients to Your Social Media Profiles
After your email signature details are complete, you can connect your signature to your social media. Just move to the next box on the left hand menu that has a sharing icon. As mentioned, this is a perfect opportunity to extend your recipient's engagement by encouraging your them  to experience your business on other mediums like Facebook, Twitter and LinkedIn.
If you have any other social media profiles you'd like to showcase like YouTube, Instagram or Etsy, just click on the button below that says "Add Another." This window will popup, where you can choose from a wide variety of social media platforms.
Step 4. Customize Your Email Signature With Color & Design
Next up is the design box on the left hand side, where we will get the opportunity to get more creative. cloudHQ makes it simple to be a pseudo-designer through built in layout email signature templates. This will allow you to save time on formatting, while providing the refined look that best represents your business. Begin to make your signature as unique as you are—change the size, fonts, and colors to unify your brand experience.

Step 5. Extensions For Your Extension!
We linked other great extensions to this one to make your email signature exceptional. Let's take a look at all the options.
1. Calendar Meeting Scheduler
Directly from this signature tool, you can add in a calendar meeting scheduler that allows your email recipients to book a meeting time with you in just a click.
2. Sales Event Announcement
Or, if you're having a special promotion or event, it is simple to add a link URL under the Sales Event field for whatever duration of time that you need. The link redirects your audience to the promotion site, reducing the steps to a sale. This is just another way that email signatures can be a powerful business driver!
3. YouTube Video
Next up in the extensions we have videos. Data shows that video is the fastest growing engagement tool online. Our own newsfeeds and websites are brimming with videos that deliver more value than thousands of words of text. Add a video introducing your business to the world or use a video to increase launch visibility of your latest product or service.
3. Holiday Banners
And, during the end of the year, how many times do you sign off your emails with "Happy Holidays" or something similar during the festive seasons? Well, the holiday template banners brings a lot of simplicity and color to wish your clients, friends and family well during holidays.
Often, manually adding media content like this to a signature can disrupt the entire format, but not with this Free Email Signature Generator. Everything stays in its place, with the flexibility to change the creative elements as frequently as you need.
4. Confidentiality Disclaimers & Green Footers
We want to be sure all your email recipients handle your content with care. However, if you are not a lawyer, you might hesitate to add the confidentiality language that you'd like. Built in email signature templates make it easy to select just the right disclaimer so that both you and your email recipients are protected.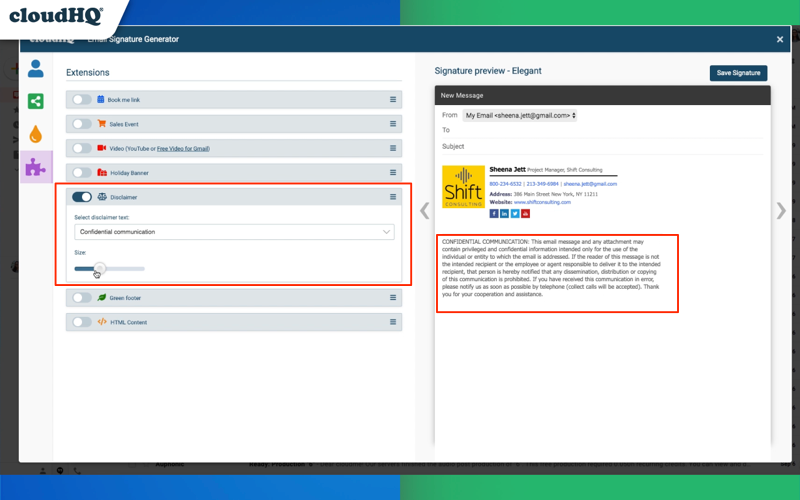 And while we are are talking about protection, the environment could sure use our help. Digital communication saves on paper only if we do not print the emails we receive. Plus, today's audience like knowing they are doing business with mission-driven organizations. So, take the time to remind your network to consider carefully if they need to print your emails. Every little bit helps!

5. HTML
HTML is great if you understand how to code HTML and want to include something custom like a word, or button, or something like that. For example, if you wanted to include the word "IMPORTANT" and underline it, you can enter in this code:
<h2><u>IMPORTANT</u></h2>
It's fun to be able to create code that gives you exactly what you want.
Once you've completed all the design customization and extension additions, hit "Save Signature" to begin enjoying your new signature!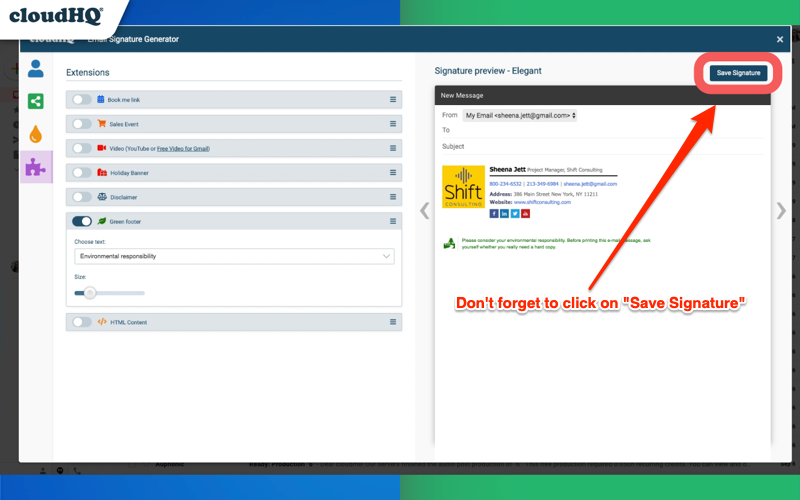 Customized business email signatures give you a business edge
As we covered, the major difference between a regular text email signature and this email signature, is the ability to create a dynamic Call-To-Action (CTA). Every business needs to find multiple ways to encourage prospective clients to take action – especially when every marketing dollar counts. In this way, email can serve as a sophisticated promotional tool, highlighting your brand with every click. Whether it's a video, photos of your product or links to a sale and social media, use this valuable real estate to tell a story about who you are and what you offer.
Free Email Signature Generator allows you to:
Add a video outlining your services and images to give your brand personality
Share promotional links and holiday banners in tasteful, yet consistent way
Instantly add legal confidentiality and green footers to each email
Change the sizes, colors and fonts with a few simple clicks
We know that our businesses thrive and grow when our network can easily and often see exactly why we are a fit. Yet, we commonly leave that responsibility unfulfilled in one of the most obvious places – Email. No more! Now there is a solution that fits every business. So, ask yourself: How well are you being represented in your business email signature today?