If you are a real estate salesperson, you have undoubtedly experienced the frustrations of overwhelming paperwork, disorganization, and time mismanagement due to the slow transfer of files and documents. If you're looking for a power plan that will get you organized and operating at a quicker and more efficient progress, this article is for you. If you already have a good power plan, that's great, but this one just might be better, so read on. 
Using Evernote for real estate
Create a dedicated notebook for each customer
Creating a notebook for each customer you deal with offers better organization and easy searching. You can store every kind of information you need in Evernote– notes, interviews or other audio recordings, photos, and even PDF documents. Most aspects of a transaction can be completed within Evernote and the rest can be completed through Dropbox. With these two tools, you have a perfect power plan for selling real estate. 
Within this dedicate Evernote notebook, you can store important documents, emails, inspection results, contracts, and other important information with the client. Make a notebook for the client, store all documents in a dedicated Evernote notebook, and share that notebook with the client. This way, they have access to information they need and you have, plus it can make the signing of documents a much faster and efficient task. 
Managing transactions
With Evernote, it's simple to make a transaction table with all of the pertinent information stored in it. You can also add tags to this document for even easier searching.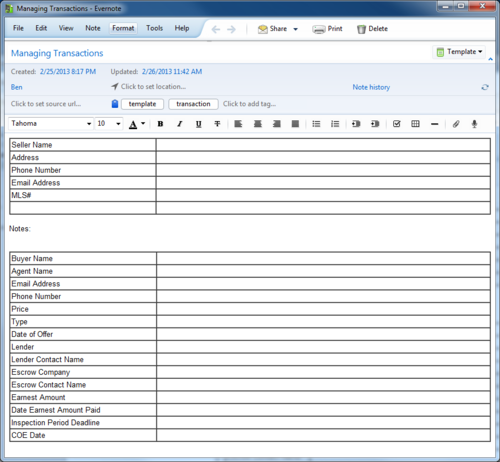 The Evernote template found here: https://www.evernote.com/shard/s195/sh/9299c8a7-db33-4198-9d6e-e036be1a9971/b37bb669f3148ac1a4b078d5061af2f8
You can also have a "to-do" checklist of everything that needs to be done during the course of the transaction.
The To-do template can be found here: https://www.evernote.com/shard/s195/sh/560b16dc-8157-4bc8-974a-2d782ffc548c/28473e0082561adb1f7b9b026830fb87
You should make an organized list, noting everything that happens during the course of the transaction. Any contact with the client, agents, or other sources, can be recorded- everything should be documented, and you can even provide links to relevant documents or other sources within this table.
The template for the above can be found here: https://www.evernote.com/shard/s195/sh/3c1e4e3e-cb0d-4f1e-a459-f550f5886f59/44fb6ced3756418587aee179390429b1
Creating templates
You can create a variety of templates within Evernote that can help you during transactions. Unless you want to create the same tables and documents every time you deal with another transaction, it is advisable for you to create templates such as the transaction table, the "to-do" checklist, and the transaction notes table that I listed above. Of course, you can create your own, or revise these to meet the needs of your real estate business.
You can create a special notebook called "Templates" and add notes with empty tables there. 
Create links within notes
This is an extremely helpful and organizational method to keep up with important documents or information. Important information in your notes often relates to other documents or sources, and a link can be created on that text that links to other sources on the internet or to other notes or documents that are stored within Evernote. This enables all pertinent and related information and documents to be linked together in your notes for easy organization and searching. By creating links to all other documents on the main templates, you will never have a hard time finding these documents as there will be links to all of them right in front of you. 
Create informative, helpful lists for clients
Creating an informational list on everything the client needs to do before the closing on their home, as well as contact information for local companies that can handle these tasks, is something that can help them immensely. 
Here is the template: https://www.evernote.com/shard/s195/sh/028288a2-502d-466a-aa3f-421ebb5d072e/8be03b3f2159b46a62d01850e78cac7a
Create to-do lists and manage tasks
As you can see in the templates above, a "to-do" list is imperative if you wish to stay organized. Not only can you create the "to-do" checklist but you can also set each entry as a separate task; then use tags to manage the task and set due dates. This is an excellent way to stay organized and ensure that nothing gets skipped or overlooked. 
Using Dropbox for real estate
One reason that Dropbox should be used in conjunction with Evernote is the fact that the closing document will not be able to be created or saved in Evernote because more than likely you will need to use Microsoft Word or a compatible program. By using Dropbox, the document can be created in Word, saved to Dropbox and instantly shared with the client for review. Dropbox is integrated with Docusign as well for easy document signing and sharing. PDFs can quickly be created and shared as well. 
The main power use of Dropbox is the superior sharing capabilities. The back office probably uses (or should use) Dropbox for simple sharing of documents, photos, files, and other important data. Dropbox has much better sharing than Evernote, and the simplicity of a "drag-and-drop" file system makes it much more sufficient for office workers with a heavy workload. 
Here is how simple it is to share folders using Dropbox:
When you open Dropbox on your computer, it will look like any other Windows folder. You can create or move existing folders (and files) to this folder. Once you have a folder you wish to share, it's easy to share. If you want to choose the share settings straight from your computer, simply right click on the folder and choose "Share this folder." Input the email address of the person you wish to share with and it's done.
If you are accessing Dropbox from the Dropbox website, simply follow these steps: 
Sign in to the Dropbox website
Click on Sharing from the sidebar on the left
Press the button labeled "New shared folder"
Input the email address of the person you wish to share it with.

 
It's that simple to use, and from that point on, you can just drag and drop files into that folder and they are instantly uploaded to all devices that have access to that account- desktop computers, laptops, smartphones, and tablets.
Another power use of Dropbox is the fact it can sync with all devices so the information can be accessed anywhere. The office workers can access it from the desktop PC, the agent in the field can access it on their tablet or smartphone, and the client can access it via whatever device they are using. 
Now, as you can see, using Evernote and Dropbox creates a power plan that allows all aspects of the transaction to be created, edited, documented, stored, and shared in a fast and efficient manner. There is one way you could make it even more efficient, and that's by syncing Evernote and Dropbox together. This ensures that all documents created or emailed to Evernote are instantly uploaded to Dropbox. This means you don't manually have to send the files from Evernote to Dropbox, which can be a little time-consuming depending on your methods. You will need a separate cloud service to sync Evernote to Dropbox, our recommended synchronization and backup service is cloudHQ. 
Well, there you have the perfect power plan for real estate. This is by far the fastest and most efficient method for selling real estate that we currently know of. By using these two powerful cloud services, your work will be more organized, tasks will be completed more efficiently and will not be overlooked, and documents can be shared within seconds. Take real estate selling to the next level with this power plan.
————————————————————-
Related links:
6 Real Estate Tips from Krisstina Wise https://blog.evernote.com/blog/2012/02/22/6-real-estate-tips-from-krisstina-wise-new-real-estate-ambassador-plus-evernote-for-real-estate-webinar/
Evernote For Real Estate 

by Lindsay Oparowski on Apr 16, 2012 

https://www.slideshare.net/loparowski/how-to-use-evernot