Microsoft Surface is a "dream for writers with tablets." but what about Dropbox support…
Earlier this month, Microsoft released the MS Surface Pro tablet integrated with Windows 8. The tablet has received much acclaim and vendors are rushing to get apps that are compatible with the tablet and Windows 8.
Dropbox is one of the most popular services and one of the most downloaded apps. Just last month, Dropbox released Dropbox for Windows 8. While the app does have many useful features for Windows 8, it quickly received criticism for the features that were not included. This newest version of Dropbox was designed to run on Windows 8, as well as Windows RT. It is integrated with Windows Share charm, but it lacks the critical functionalities of Dropbox: real-time synchronization and the ability to save or access files offline. 
One of the critics who goes by the name "Max," had this to say in the comment section of the above Dropbox blog post,
People buy Surfaces because they want to write. And Dropbox is a dream for writers with tablets.  

But if we can't save or access our files offline, that dream is dead. If I can't access my file on the train, or in the dentist's office, or at that cafe without wifi, I can't save it to Dropbox. Which sucks, because I want to. 
This comment highlights the frustration many users are currently experiencing. On one hand, you have an incredible new tablet that is sleek, fast, and abounding with useful apps, but on the other hand, you have the problem of not being able to access or save files offline and the inability to sync in real-time which could possibly cause data loss.
So what's the solution?
Microsoft Surface comes with Microsoft's cloud storage service, Skydrive, implemented with Windows 8. So if a sync could be created between Skydrive and Dropbox, this could solve all of problems mentioned above. The problem is that neither one of these apps come with the feature to sync to each other. Enter cloudHQ. 
CloudHQ provides the missing links by providing a real-time sync between Dropbox and Skydrive. Skydrive integrates seamlessly with Windows 8 and produces excellent scalability and integrations with other platforms of Dropbox. So now any changes from Skydrive will be instantaneously uploaded to Dropbox, and any changes (or if someone shares a file with you through Dropbox) will be instantly uploaded to Skydrive, providing access to the files whenever access is needed.
Microsoft Surface is an outstanding tablet. Windows 8 is the newest rage and app developers will have to work hard to get their apps to integrate with this version of Windows. Dropbox for Windows 8 is a decent app, but it lacks several key functionalities. CloudHQ is the answer; the link; the glue that can pull it all together and eliminate these problems.
And here is how to sync SkyDrive and Dropbox
 1. Go to https://cloudHQ.net
 2. Drag the SkyDrive icon into the empty box on the left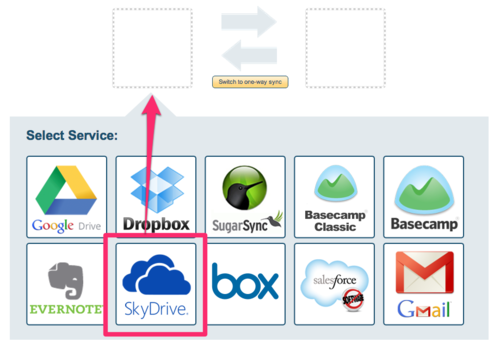 3. cloudHQ will prompt you to create a cloudHQ account using your Google ID
 4. Then click on "Add SkyDrive account" to authorize the SkyDrive account with cloudHQ and, after authorization is finished, select top level and click on "Select »"
 5. Drag the Dropbox icon into the empty box on the right, then authorize the Dropbox account with cloudHQ
 6. Select top level and click on "Select »"
 7. Verify options and click on "Synchronize Continuously"
Related links: