Dropbox, Google Drive, Box, OneDrive, Amazon Web Services, iCloud?
Which one is best?
The answer is: it depends on your needs.
There is no "best" service. But there is probably one or two that are better than the others for your specific situation.
We support five of the six services (everything but iCloud, for reasons we'll explain in a bit).
In this post, we'll give you a buyer's guide for the six major cloud service providers:
Dropbox

Box

Google Drive

OneDrive

Amazon Web Services

iCloud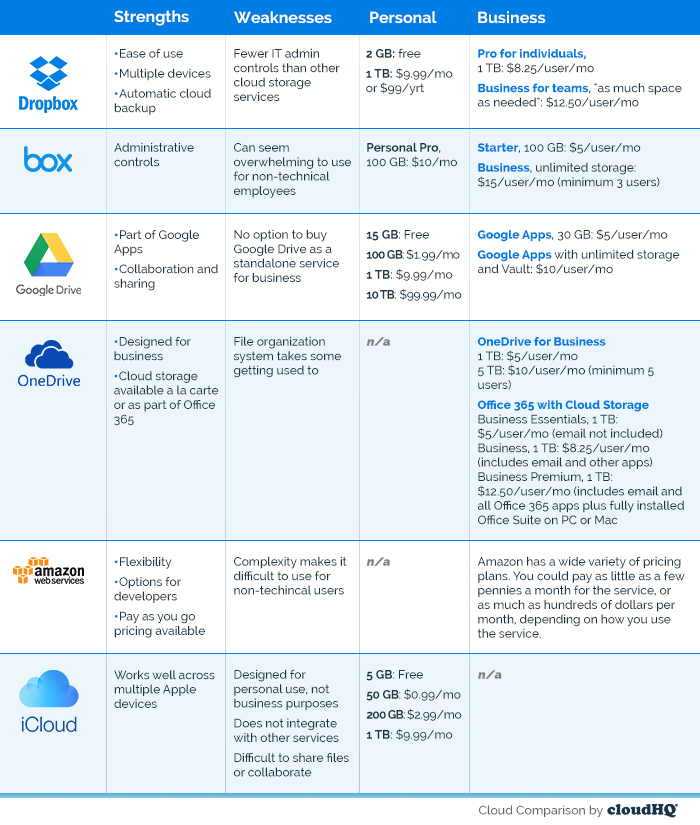 Start by Defining Your Needs
Before you start evaluating features, first define exactly why you need cloud storage
Common uses for cloud storage include:
Backup

Shared storage

Collaboration with clients

Legal requirements

Delivery of digital products
Your needs should dictate which service you choose, and each of these purposes will need different features.
The 4 Types of Cloud Services
Of the six services we'll be profiling, they all fall into four broad categories:
1. Dedicated cloud storage (Dropbox and Box)
Dedicated cloud storage services are simple and straightforward.
When you sign up with Dropbox or Box, you're buying cloud storage directly.
This is different than signing up for Google Apps or Microsoft Office 365, which include cloud storage as part of a suite of applications you get with your subscription.
2. Cloud storage as part of a broader suite of web applications (Google Drive and OneDrive)
Google Drive and OneDrive are usually purchased as part of a broader suite of applications.
With both Google and Microsoft services, you get hosted email, a calendar, word processing and spreadsheet apps (e.g. Google Docs or the web version of Excel), and a variety of other tools—including cloud storage.
3. API-focused cloud storage (Amazon Web Services)
Amazon Web Services is a complex service that's primarily built for developers and IT administrators. If you're a programmer, Amazon Web Services is highly flexible and can be customized to do almost anything.
4. Personal cloud storage (iCloud)
Personal cloud storage is best for personal uses. It's not built for business tasks or collaboration the way the other services are.
The Six Cloud Storage Services
Here are a few specific details for each of the six services we're covering in this article:
1. Dropbox
If you want simple, effective cloud storage for your files, Dropbox is the service for you.
You can upload any type of file to Dropbox. You can also sync all or some of your Dropbox folders to your desktop. Drop a file in the folder on your computer and Dropbox will sync it to its servers in the background.
This makes Dropbox a great choice for anyone that needs to backup files—or who often works using multiple devices.
Dropbox works on Mac, Windows, Linux, iOS, Android, and Amazon Kindle, among other systems.
Dropbox was primarily built for individual use, but over time the company has added a number of features to improve its use within a business setting.
Strengths:
Ease of use

Multiple devices

Automatic cloud backup
Weaknesses:
Fewer IT admin controls than other cloud storage services
Plans:
1) Personal plans:
2 GB: free

1 TB: $9.99/mo or $99/yr
2) "Dropbox for Business" Business plans:
Pro for individuals, 1 TB storage: $8.25/user/mo

Business for teams, "As much space as needed": $12.50/user/mo (starts at 5 users)
2. Box
Box is very similar to Dropbox.
It's easy to use and can be accessed either through the website or by syncing folders to your desktop. It also works across all major desktop and mobile operating systems.
Box—however—was built specifically with IT administrators in mind.
There are more controls over user access, privacy, sharing, and a variety of security features not available (or easily accessed) in Dropbox.
Box's strong security and sharing features make it ideal for business use.
Individual users might find themselves a little overwhelmed if they try to use Box for personal storage.
But IT administrators should feel right at home.
Strengths:
Weaknesses:
Can seem overwhelming to use for non-technical employees.
Plans:
1) Personal plans:
Personal, 10 GB storage: Free

Personal Pro, 100 GB storage: $10/mo
2) Business plans:
Starter, 100 GB storage: $5/user/mo

Business, unlimited storage: $15/user/mo (minimum 3 users)
3. Google Drive
Google Drive comes bundled with a variety of applications in Google Apps for Work.
Google Drive works extremely well for anyone who regularly uses Google Docs, Google Sheets, one one of Google's other web applications.
Many businesses choose Google Apps for email hosting—wanting to take advantage of the Gmail platform.
Along with Gmail, Google Apps users get 30 GB of Google Drive storage automatically. Up to 1 TB of data per user is available as an upgrade.
Google Drive comes with robust built-in sharing features.
You can easily share links to Google Docs or Sheets, and you can also quickly share links to any type of document stored in Google Drive.
Strengths:
Part of Google Apps

Collaboration and sharing
Weaknesses:
No option to buy Google Drive for Business as a standalone service
Best for:
People who need a variety of tools for their business

Client-based businesses that often send documents back and forth to clients

Gmail users or heavy users of other Google applications (e.g. Google Docs or Google Drive)
Plans:
1) Personal plans:
15 GB: Free

100 GB: $1.99/mo

1 TB: $9.99/mo

10 TB: $99.99/mo
2) "Google Apps for Work" Business plans:
Google Apps, 30GB storage: $5/user/mo

Google Apps with unlimited storage and Vault: $10/user/mo
4. OneDrive
Unlike Google Drive, OneDrive can be purchased a la carte, although it is most often purchased as part of an Office 365 plan.
If you subscribe to Office 365, you'll also get Word, Excel, PowerPoint, Outlook, and a variety of other apps.
If you're comfortable using Microsoft Office products, OneDrive is a natural extension and can be easily integrated into your normal workflow.
If you use OneDrive, you'll have to get used to the applications file storage system, which tries to store and organize files for you—sometimes with more success than others.
Strengths:
Designed for business

Available a la carte or as part of Office 365
Weaknesses:
File organization system takes some getting used to.
Plans:
1) OneDrive for Business:
1 TB: $5/user/mo

5 TB: $10/user/mo (requires five or more users)
2) Office 365 with cloud storage:
Business Essentials, 1 TB storage: $5/user/mo (email not included)

Business, 1TB storage: $8.25/user/mo (includes email and other apps)

Business Premium, 1TB storage: $12.50/user/mo (includes all apps, fully installed Office on PC/Mac)
5. Amazon S3
Amazon Web Services is the most flexible cloud service on our list. This includes Amazon S3 storage (The "S3" stands for "super simple storage") and Amazon's other offerings.
Amazon Web Services is a fantastic choice for app developers or those delivering digital products.
It also offers a "pay-as-you-go" pricing, meaning you'll only be charged when you actually transfer data back and forth to Amazon's servers.
If you're not technically savvy, however, Amazon is a lot to try and understand and might be one to avoid.
Strengths:
Flexibility

Options for developers

Pay as you go pricing available
Weaknesses:
Complexity makes it difficult for non-technical users
Plans:
Amazon has a wide variety of pricing plans. You could pay as little as a few pennies a month for the service, or as much as hundreds of dollars per month, depending on how you use the service.
See Amazon's pricing page for more on how you'll be charged for the service.
6. iCloud
cloudHQ does not support iCloud integration, but we sometimes get asked if we think iCloud is a viable cloud storage service for business purposes.
In our opinion, the answer is: probably not.
iCloud is designed to work seamlessly with a personal Apple account.
For example, iCloud is great if you want to access photos you take on your iPhone from your Mac or iPad.
Apple generally makes it difficult to share iCloud files with others. Since much of what people store in iCloud is copyrighted music, movies, or books, this makes sense.
In short, iCloud is a great service for your personal media files.
We do not think—however—that iCloud is a good cloud storage option for business purposes.
Strengths:
Works well across multiple Apple devices
Weaknesses:
Not designed for business purposes

Does not integrate with other services

Difficult to share files or collaborate
Plans:
Personal iCloud plans:
5 GB: Free

50 GB: $0.99/mo

200 GB: $2.99/mo

1 TB: $9.99/mo
How to Sync Folders Across Platforms
If you've read this article but are new to cloudHQ, we want to remind you that you can easily sync folders across the different cloud services we covered in this article (except for iCloud, which doesn't sync with any service outside iCloud itself).
For example, if you have Google Drive as your primary cloud storage service and you're working with a contractor who uses Dropbox, you do not have to open a new Dropbox account to share a folder.
Instead, you can sync a folder from your Google Drive account directly to the contractor's Dropbox folder by using a simple two-way sync in cloudHQ. Whatever you put in Google Drive, your contractor will automatically see in Dropbox in real time, and vice versa.
This can be done for any combination of cloud services.
For a free trial, visit our getting started page.
Get Started