What's the easiest, most effective way to transfer large files over the internet?
If you're a graphic designer, artist, or a movie creator, this is no small question. Your work depends on getting files to your clients. If there's a faster, easier way to transfer big files, you need to be using it.
In this article, we'll look at three different ways to send and save large files online.
They are:
Email (least effective)

Dropbox or Google Drive (somewhat effective)

Cloud sync (most effective)
All three methods work, but as you'll see, the third method is by far the easiest.
Method 1: Email
Many people's default option for transferring files is to email them.
With big files, you'll quickly run into file size limits.
And even though most email providers provide workarounds:
The person who receives your email can still have problems receiving and downloading the file on their end.
Many companies, for example, have security measures in place to prevent downloads of large files via email.
For this reason, sending big files by email can easily become a major headache.
Method 2: Sharing Through Cloud Storage
Google Drive and Dropbox are the two most commonly-used cloud storage platforms available.
Free plans will get you a few GB of storage. But if you're working with big files, you'll probably need to upgrade to a paid plan.
A full terabyte of data (1,000 GB) will cost you under $10 per month for either platform, with additional storage available if needed.
Once you have storage space available, you can upload your files, then "share" those files using a share link.
We do not recommend sharing a folder to share big files.
It's unlikely that a client or partner organization will be using the same cloud storage service as you.
For that reason, the person you're trying to share a folder with will have often be working with a free Dropbox or Google Drive plan.
When you share a folder full of big files with someone on a free plan, you'll quickly max out their storage limits.
Instead, share a link that gives access to the file to anyone with the link. The person can then click to download and save the file.
The fastest way to share a link is to use the Share and attach files in Gmail Chrome extension.
This will let you navigate to any of the major cloud storage providers directly from within Gmail, no copy and paste required.
Method 3: Syncing a Dropbox or Google Drive Folder
This is the easiest method.
By using cloudHQ, you can sync a Google Drive or Dropbox folder to any other cloud platform.
Whatever cloud storage plan your client is using, you can sync directly to a folder they set up for the project.
If you use Google Drive and your client uses Dropbox—for example—a cloudHQ sync means you can link your Google Drive folder directly to a folder in their Dropbox account.
Once the sync is in place, anything you place in your shared folder will show up immediately in their Dropbox folder, and vice versa.
Instant access. No need to share individual links or send a dozen emails letting everyone know when new files are ready for review.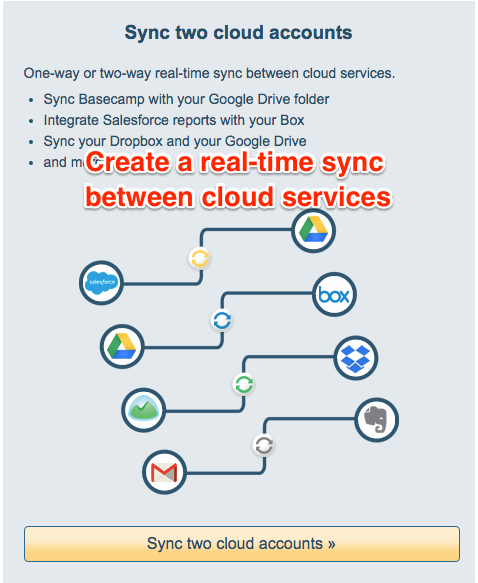 The Payoff
Logistics is a constant headache for creatives working with big files. Using Dropbox and Google Drive is a big step up from email attachments.
But nothing beats a sync pair.
Set Up Your Cloud Sync Now