People love Dropbox because it's so convenient and easy to use. But those who use it for business are faced with two challenges: how to make sure their confidential data is protected from unauthorized or malicious access, and how to protect that data against malicious or accidental deletion.
There's an easy way to do both, when you combine Dropbox with Credeon and cloudHQ.
The Convenience and Concerns of Cloud Storage
You probably already know that Dropbox is an extremely effective and popular cloud storage service that many businesses use for seamless sharing, storage, and backup of important data in the cloud. It makes collaboration simple and convenient.

As great as Dropbox is, though, security can still be a concern for some users. Even though Dropbox does have some security features such as two-step verification, the cloud by itself is not entirely safe. By definition, after all, uploading data to the cloud means it's "out there" — for potentially anyone to see.
This can be an issue for many professions. Lawyers, for example, have special concerns because of the sensitive, confidential nature of the documents they work with. Companies involved in merger negotiations, or those in highly competitive fields such as advertising, real estate, and investment banking, also may have very good reason to worry if their data becomes available to any unauthorized users. Hackers, rival companies, and other outside parties are a real threat that it's unwise to ignore or underestimate.
Protect Your Confidential Data Against Unauthorized Access
So how do you protect against malicious and unauthorized access to your data in Dropbox? One excellent solution is to use Credeon to encrypt your data. This encryption key management system from Hitachi uses military-grade encryption technology to secure your files before you upload them to the cloud. Credeon is available for Windows, Mac, iOS and Android, so you can use it on virtually any device. When you put a file in your Credeon folder, it's automatically encrypted and ready to upload to the cloud and share. After you upload a Credeon-encrypted file to Dropbox, you choose who gets to see it by giving them the encryption key.
Using Dropbox and Credeon together is a fantastic way to protect against someone's stealing your sensitive data — but this method does not protect against malicious or accidental deletion of that data.
A hacker, a virus, or even a disgruntled employee could still get into your Dropbox account and simply delete everything. A nightmare for anyone, and one that is a very real threat. Just ask journalist Mat Honan, who had all of the data in his MacBook, iPad, and iPhone deleted by a hacker who wanted access to his Twitter account.
On the other side, there's also the less nefarious but equally damaging possibility that someone on your own team may accidentally delete some or all of your data. You know the saying: "To err is human." And we're all human.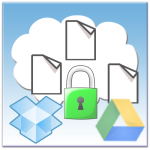 Back Up Your Data: cloudHQ to the Rescue
That's why it's important not to keep all your data stored in only one place. Having a cloud-based backup of all your data is a great way to guard against deletion, be it malicious or accidental.
This is where cloudHQ comes in. When you upload a document to Dropbox, cloudHQ backs it up in your Google Drive. Setting this up is as easy as selecting your Dropbox and Google Drive accounts — cloudHQ does the rest. You use a "backup" Google Drive account: one that is not synced to your computer and uses a different email address with different login credentials. Synchronization is in real-time, which means that as soon as you make any changes to data on Dropbox — say, uploading a new document, or even just editing an existing one — all the changes are instantly replicated in Google Drive.
What's more, with cloudHQ you can set up two-way syncing between Dropbox and Google Drive, making it even easier to collaborate and keep things up to date. Change or upload data in Google Drive and it automatically gets synced to your Dropbox.
In this way cloudHQ solves two problems: 1) simplifying collaboration and 2) transparently backing up your data.
Now you've got a double layer of protection. With the seamless combination of Dropbox, Credeon, Google Drive, and cloudHQ, your data is kept safe from malicious or unauthorized access as well as from malicious or accidental deletion. Brilliant!