When Google launched Gmail, it exploded onto the market, offering a fast, intuitive interface and a radical (at the time) 1 GB of storage space. Hotmail, by comparison, offered just 2 MB of storage.
There are now over 900 million Gmail accounts, making it the most popular email service by far.
Gmail has retained its lead in the email market because—well—it's easy to use and has an amazing set of features. Gmail has also been improved in countless ways by companies who've built Chrome extensions to supplement its features (Like us).
Here's our countdown of the top 10 amazing free things you can do in Gmail (that you might not have known were possible):
10. Preschedule Emails
With Boomerang's Chrome extension, you can send up to 10 prescheduled emails a month for free.
The next time you're up late working on a proposal for a client, don't worry about remembering to send it to them the next day. Instead, just schedule an email for first thing in the morning.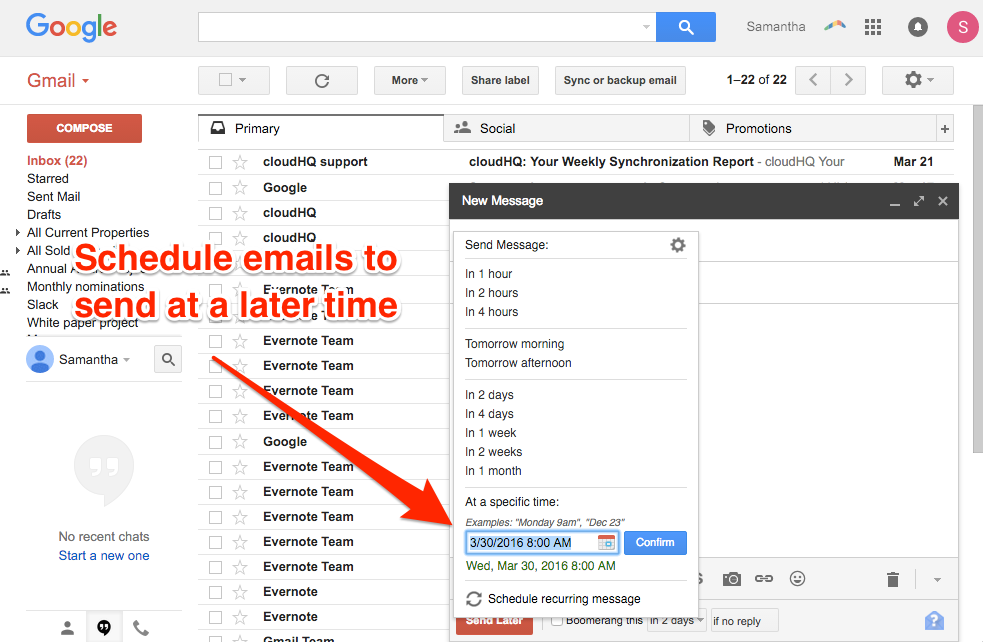 9. Canned Responses
Sometimes you need to send an email that just says "Yes" or "Got it."
If you send a lot of those emails, Gmails "canned responses" can make them painless.
To enable them, click the gear icon, then the "Labs" tab. From there, find "Canned Responses" and enable it.
8. Find Out if Someone Opened Your Email
No, we're not talking about "read receipts." We're talking about a more subtle form of tracking.
Check out ananatag Email Tracking, Sidekick, or Intelliverse Email Tracker. All three will track a limited amount of emails per month for free.
7. Get Unlimited Alias Email Addresses
Gmail doesn't recognize periods, capitalization, or the "+" symbol in email addresses. If your email is YOURNAME@gmail.com, we could send email to any of the following email addresses, and it would show up in your inbox just fine:
yourNAME@gmail.com

your.name@gmail.com

YoUr.NaMe@gmail.com

y.o.u.r+n.a.m.e@gmail.com

Y+O+U+R+N+A+M+E@gmail.com
6. Track Which Companies Who've Sold Your Email Address
One of the best ways to use the alias emails is to see which companies have sold your email address.
The next time you give a company your email, use an alias as we described in No. 7.
When you get email from that company, it'll come through to your alias, which you'll see in the "to" line. That's to be expected. But if you see other companies use the same email alias, you know the first company sold you out.
5. Desktop Notifications
Did you know you can get desktop notifications for Gmail—without using Outlook or Apple Mail?
Even better, you can set it to notify you for any incoming email, or even just for emails labeled "important."
To set up notifications, click the gear icon, go to Settings, then scroll down to "Desktop Notifications."
4. Organize Projects with Labels
Instead of folders, Gmail uses labels – giving users significantly more flexibility in how they organize their inbox.
At cloudHQ, we use labels to organize projects. One label per project. When we start something new, we set up a new label and use it throughout the project. When the project is done, we simply archive the label.
This helps us keep track of what's happening now, and it preserves a record of our work in case we need to refer back to it later.
3. Organize Labels to Show Current Priorities
The flexibility of labels comes with a downside: the potential of a huge, unorganized list of labels.
Fortunately, Gmail has a way to manage labels, giving you the power to hide or show any gmail labels. This is a great way for you to close out your projects by hiding the Gmail label once that project is done, but still keep a saved copy of it in case you ever need to refer back to it at some point in the future.
2. Share Labels
Sharing labels is a powerful way to collaborate with others working on a project. To do this, first install our free Gmail label sharing Chrome plugin.
When you share a label, cloudHQ makes everything in that label available to the other person, directly from their own email provider.
This is perfect for teams who need to stay on the same page, or for anyone who regularly works with contractors and other outside organizations.
1. Chat Directly Within Gmail (No Slack Account Required)
We recently launched an all-new feature called Label Chat. Put simply, it lets you have chat conversations directly within a Gmail label—in the same place all related email messages are stored.
This puts all of your communication about a project together in one space. Instead of switching back and forth between email and a chat application, you can just stay in Gmail for efficiency.
If you want to work with anyone outside of your organization, there are so few options available to teams who have different domain email addresses.  We find this sad because teams should be diverse and can easily be made up of clients, contractors, or even your best friend who you know is an expert on your project's industry.
Label Chat is free and works for anyone with a Gmail account.
ADD TO CHROME