Slow WiFi is one of modern life's great frustrations.
That's why many coffee shops hate Dropbox, Google Drive, Skype, and Netflix.
They're bandwidth hogs.
To provide quality WiFi, coffee shops often take steps to prevent these types of cloud applications from running on their networks, or at least slow them down drastically.
High-end routers are routinely marketed and sold for their ability to block common cloud applications and data syncing protocols.
We can't blame coffee shops for this. Customers don't realize what's causing a wireless network to be slow. They just know they don't like it—and they if they're trying to work, they'll usually take their business elsewhere.
Getting Around WiFi Blockers.
Hint, hint: We've Got a Free Chrome Extension for That.
We recently launched a new Chrome Extension: Save emails to Dropbox.
The new extension gives you the ability to save any email to a Dropbox archive with the click of a button. It even includes any attachments that might be in the email.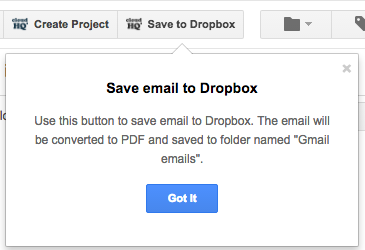 This is the easiest way to save messages from your email directly into a Dropbox folder.
It works anywhere Gmail does, even in coffee shops that block Dropbox and other bandwidth-hogging apps.
One click will create a PDF copy of the email and save it in a dedicated Dropbox folder called "Gmail emails."
If you want to share that folder with others, simply use Dropbox's sharing functionality. Or set up a continuous sync between the Dropbox folder and any other cloud storage service like Google Drive or OneDrive through cloudHQ.
This is perfect for anyone who wants to create a permanent record of their emails.
If you work from coffee shops or anywhere public, this is by far the easiest way to store and share messages using Dropbox.
And if you use Dropbox on a device with no hard drive, the new Chrome plugin is your only choice to archive Gmail messages to Dropbox.
3 Steps and You're Done.
Here's a step-by-step guide once you install the "Save emails to Dropbox" Chrome extension.
You'll notice a "Save to Dropbox" button on top of your Gmail emails. Click it.
Your email will be converted to a PDF and stored in a Dropbox folder called "Gmail emails."
To share the file, simply use Dropbox to create a share link as you normally would.
DONE!
Not to Brag, but…
Okay, we're bragging. But if you didn't use our free Chrome extension,  you'd have DOUBLE the amount of steps:
Open a Dropbox folder on your desktop.
Download the email from Gmail, or save the Gmail as a PDF.
Save the file to the Dropbox folder.
Wait for Dropbox to upload the message.
Use Dropbox to get a share link.
Send the shared link to other people, who'd then have to download copies of the file into their own Dropbox accounts.
As we hope you can see, the extension makes this process much quicker and easier.
Save Time and Money.
(It's Free.)
Using Save emails to Dropbox is the easiest way to save and share an email using Dropbox.
It's especially great for anyone who regularly works from coffee shops or other public places.
The fancy new routers may block some of Dropbox's normal file transfer protocols.
But no matter how much your local coffee shop hates Dropbox, we doubt they'll ever block your Gmail.
Get Started