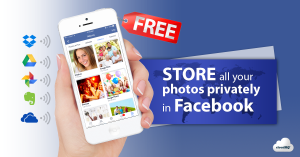 Cloud storage solutions really lack personality, and they usually cost you some dough. Recently, a friend of mine got married and sent me her wedding pictures via Gmail. As much as I wanted to, I couldn't possibly sit through looking at each one of her mini little thumbnail photos, waiting for them to load up to its full-sized version. It was then that I just couldn't shake this one thought:
How ironic that we're storing our most cherished and personal memories in a way that completely depersonalizes everything they stand for.


Introducing:
Facebook does 3 amazing things when it comes to photos:
You can load as many photos as you want for free.

You can keep them private, and decide which ones to publish (if any at all).

You finally change how you feel when you look at your pictures from a seemingly robotic, non-emotional experience, to a highly sociable and emotional one.
Go ahead and try out our free cloudHQ photo sync to your Facebook private photos. We promise you'll far prefer storing, revisiting, and sharing your photos this way- because let's face it: it's time to savor your memories the way you wanted to when you shot them.
Get Started Today
CC Images Used mypubliclands, wwarby, amslerPIX, Ruth and Dave, vastateparksstaff, davitydave, Parker Knight, merfam, Parker Knight