We're pleased to announce a new advanced wizard for our Save Emails to Cloud Storage extensions.
The new wizard lets you automatically store PDF copies of your emails (plus any attachments) to Dropbox, Google Drive, OneDrive, and other cloud storage services.
It also lets you create advanced rules for what emails to save (and which to skip). Options include:
From a sender
Subject title
Has attachment
Creating Rules to Automatically Save Your Emails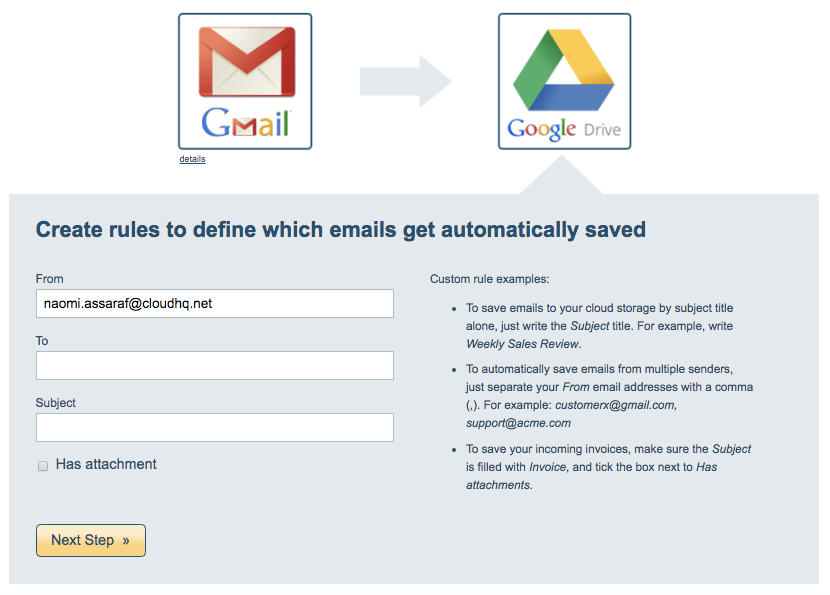 Here's how to install and use our free "save to" Chrome extensions.
1. Install a Free "Save to" Chrome Extension
Visit our Chrome extensions page to see all our available extensions.
Choose the one designed to work with your preferred cloud service (e.g. Dropbox, Google Drive, Box, etc.). Several popular ones are:
Each extension will let you easily save PDF copies of your email (including attachments) directly to your cloud storage account.
You can save emails with a single click from within your Gmail, or you can use the new wizard to set rules for what you'd like to save.
2. Click the "Save to" Button in Your Gmail
Once you've installed a "save to" extension, you'll have a "Save to" button in your Gmail.
To save emails to cloud storage and access the new backup wizard, open a message in Gmail, then click the button: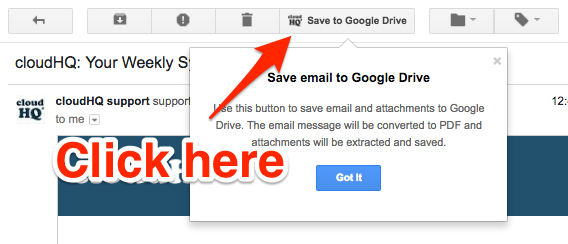 When you do, you'll be asked if you want to use the new wizard to set up rules for automatic backup of all or selected emails from your Gmail account: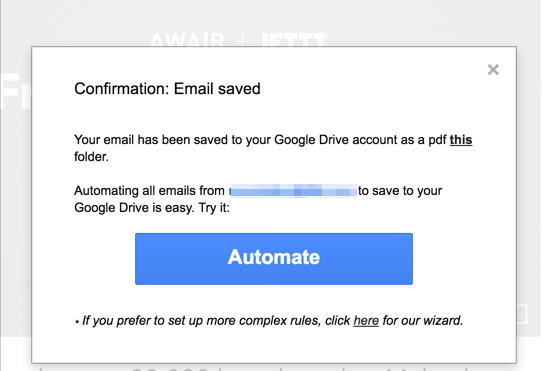 Why Save Your Emails to Cloud Storage?
There are many reasons you might want to back up emails and attachments from your Gmail. For example:
To protect against accidental data loss
To protect against intentional destruction of data by disgruntled employees
For a convenient record of all communications with a client or an individual
For a legal record of communications
To organize business records such as receipts or invoices
Whatever your reason, the wizard will make it much easier to create and organize a complete record of your emails—stored and backed up safely in your cloud storage service of choice.
If you prefer to bypass installing any of the Chrome extensions listed in #1, here's a direct link to save a copy of your Gmail emails:
Save A Copy of Your Emails Now